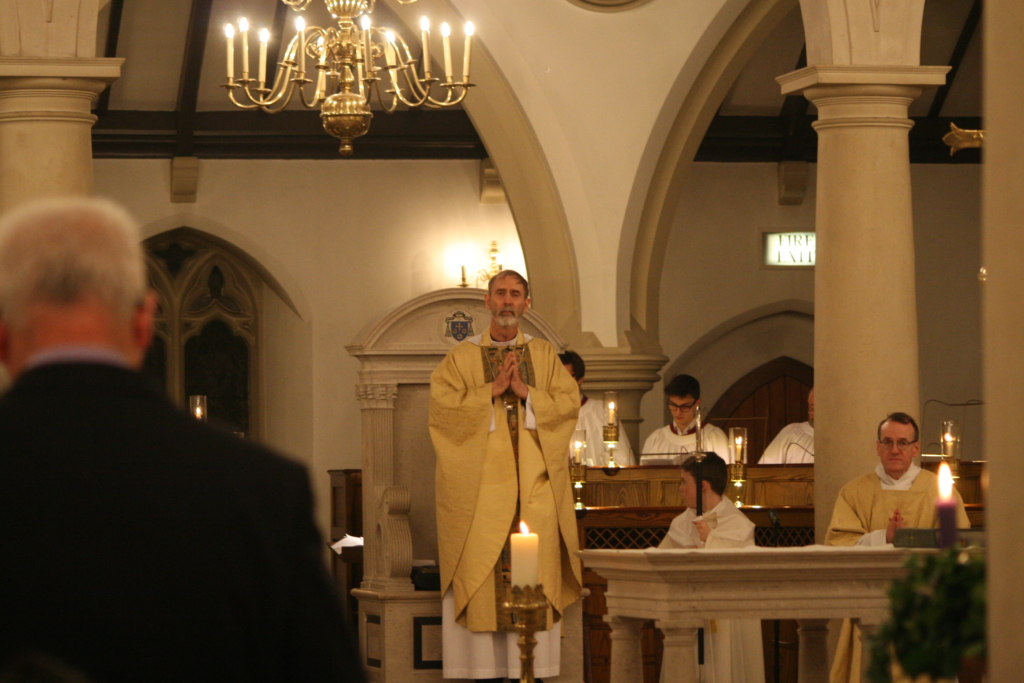 Bishop Alan Williams celebrated the inaugural Mass for the Year of Mercy at Brentwood Cathedral on 8 December on the Feast of the Immaculate Conception. A building packed with people from parishes across the diocese, priests and religious and young people from BCYS celebrated 'with Pope Francis and all Catholic, Christian peoples, the great mercy of the Lord our God'.
In his homily, Bishop Alan referred to the first reading from Genesis, which related the fall from grace of Adam and Eve. "We heard something about humanity, something about Almighty God and something about the discovery of sin," he said. "Sin can be a lack of freedom, unhappiness, a falling out – it is a picture of sin that we can empathise with."
It was a different story in the Gospel reading about Mary's encounter with the angel, he said. "The conversation between God and Mary in that house in Nazareth is about freedom, love, goodness, humanity and divinity – but there is nothing about sin." We, however, are all pretty much experts on sin, he added, and it has been a concern of the Catholic Church for centuries to try to make sense of "this mess of humanity and sin". The first Holy Year was initiated by Pope Boniface VIII in order to encourage people to think about their life's journey, said Bishop Alan. "He was quite convinced that the human journey is impossible without Christ the Redeemer and he urged people to go to Rome to experience a pardon of their sins more abundant and complete." That same Pope talked about the Parable of the Prodigal Son and this has been picked up in other Holy Years down the centuries.
In the Year 2000, for example, Pope John Paul II talked about the whole of human history as a pilgrimage to the house of God the Father. "He echoed the words of Pope Boniface, saying that we must, like the Prodigal Son, have the courage to get up and go forward towards Almighty God. But he also issued a specific warning," said Bishop Alan: "Let no one be like the unforgiving brother – who looks on filled with hatred, consumed with sin and refuses to forgive."
We all need to take this on board, he said. As children we tend to sympathise with the elder brother and the same can be true when we are older too: a part of us does not like to forgive. Pope Francis has reiterated this theme for the Jubilee Year of Mercy, said the Bishop. "The parable has all of humanity in it – it is so rich and we need to take it seriously. We have to have the courage to move forward to almighty God like the lost son or daughter and not be like the other son, never condemning or 'accusing our brethren', being relentless or bringing people down – but being merciful like the Father."
"Can we do it?" asked the Bishop. "Every morning I wake up depressed by my sinfulness but somehow Christ becomes part of my day and then my life, my humanity and the world in which I live begins to make sense again," he added. "Just for a moment, I can enter the house in Nazareth and begin to think like Mary, feel like Mary, act like Mary who was utterly consumed by the grace of God – and then it becomes possible to be merciful like the Father." Mercy is so fundamental to Christ, he added: "If we don't understand mercy, we do not understand almighty God in Christ."
"The goals before us this Holy Year are mighty," concluded Bishop Alan. "As Pope Boniface said so long ago, we must set off on the journey and this time really get there, becoming like Christ, like the Father. It is an adventure, a great calling, so let's have that motto in our minds, our hearts, our souls: 'Be merciful like the Father'."