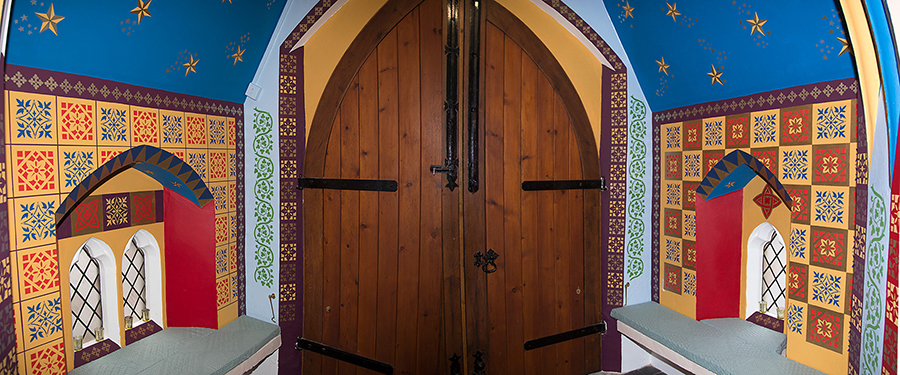 On Sunday 13 December Bishop Alan ceremonially opened the newly painted Holy Door at Brentwood Cathedral. As part of the Jubilee Year of Mercy instigated by Pope Francis, it symbolises the invitation by the community at Brentwood Cathedral to all members of the Diocese, but also the stranger, the wounded and all those searching for spiritual sanctuary to join them in the presence of our all compassionate God.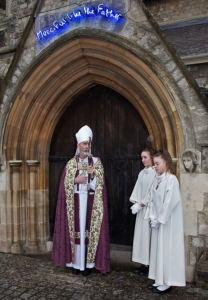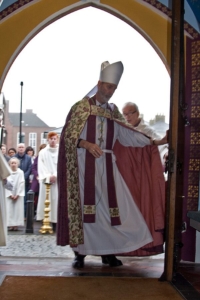 The entrance – the old main door to the 1861 church at the back of the present building – houses a beautiful new art work commissioned for this jubilee year. The door was painted by Becky Collard and a team of helpers.
In his homily, Bishop Alan concentrated on mercy and the primordial importance of trying, at least, to be merciful to one another. Forgiving our enemies might not always be easy or, for some individuals, even possible, but it should always be attempted, he said.
Welcoming the stranger

Every month of the Year of Mercy, a different group will be welcomed at the Year of Mercy Masses at Brentwood Cathedral  at 6.30pm. For each of these Masses, there will be a guest preacher who will proclaim the goodness of God's mercy. Among the groups being invited are the traveller community, refugees, single parent families, those who have been abused and the lesbian and gay community.
"Not all of us will make it on pilgrimage to Rome in this mercy year, but most people in our diocese can make a little pilgrimage to their Cathedral. I've invited parish priests to bring their parishioners to the Cathedral, teachers to bring their pupils and all other groups to make the pilgrimage to Brentwood," said Fr Martin Boland, Dean of the Cathedral. "I especially want to extend a warm invitation to men and women who may feel that they have no place in the life of the Church or who have been deeply hurt by the words or actions of members of the Church. During this Year of Mercy they are being called to take their place with the rest of us before God who is rich in mercy and forgiveness."
The Holy Door symbolises the openness of the Church. The door of Brentwood Cathedral welcomes people with the words "Merciful like the Father" in a neon sign shining out for all to see.
Pictures by Graham Hillman