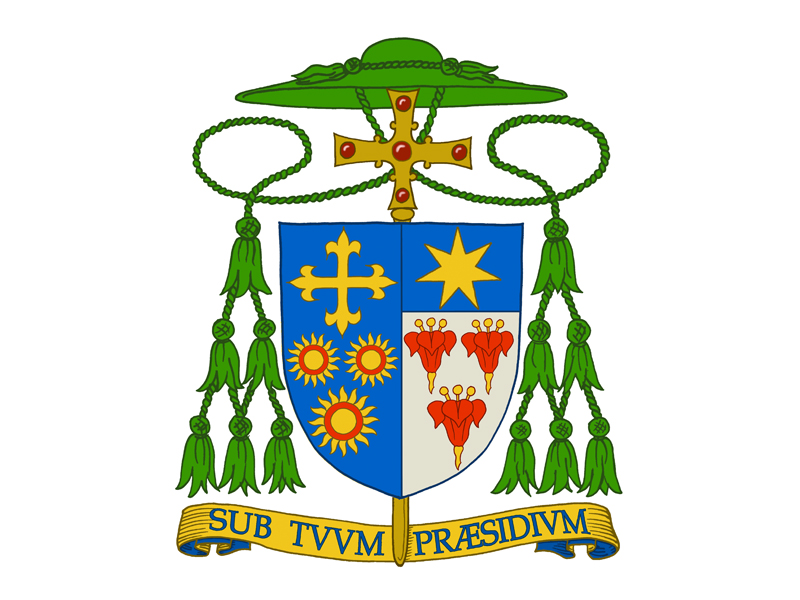 BLAZON. Impaled; Dexter, Azure a cross flory above the three suns Or, each charged with an annulet Gules (Diocese of Brentwood). Sinister Argent three lilies Gules seeded and slipper Or, on a chief Azure a star of seven points of the third (Williams). Behind the shield a cross in pale, surmounted by a green hat with twelve tassels.
The personal arms which a diocesan bishop adopts are impaled with the arms of his diocese, that is to say, the shield divided vertically, with the shield of the diocese on the left side (heraldic 'dexter') and his own arms on the right (or 'sinister') side. This shows that he is the holder of the see.
The pontifical cross behind the shield is based upon the shape of the Metropolitan Cross of Westminster from which the Diocese of Brentwood was formed.
The green hat refers to that of a bishop, the number of tassels showing his rank.
In the Bishop's personal arms, the colours of the shield are based upon the arms of the Society of Mary, the Marists, (a blue chief with a gold star, over a white field bearing a Marian monogram). The three lilies are taken from both the arms of the Diocese of Lancaster, where Bishop Williams was born, and the arms of the ancient priory of Walsingham, where he was Rector.
They are red to refer to the red rose of Lancaster (present in both the arms of Oldham and of the Diocese of Lancaster) and this also alluding to the Blood of the Martyrs. The three lilies are Trinitarian in number and also represent the three Diocese in which the Bishop has served as a priest and now bishop. These are impaled with the diocesan arms.
The arms of the Diocese bear the cross from the shield of Saint Edward the Confessor, whose miracle of the ring and the beggar took place in Romford within the diocese and beneath this the three suns of Saint Edmund, from the arms of Saint Edmund's College, Ware, as Bishop Bernard Ward, the first bishop of the Diocese, was born at Old Hall Green where the college stands. These suns are charged with three rings, referring to a mystical dream St Edmund received when a teacher of geometry, as a means of explaining the Holy Trinity.
The Motto Sub Tuum Praesidium (meaning Under Thy Protection which comes from an ancient hymn to Our Blessed Lady) alludes to the Marist motto Sub Tuum Nomine and combines the Bishop's own Marian devotion with that of St Edward the Confessor.