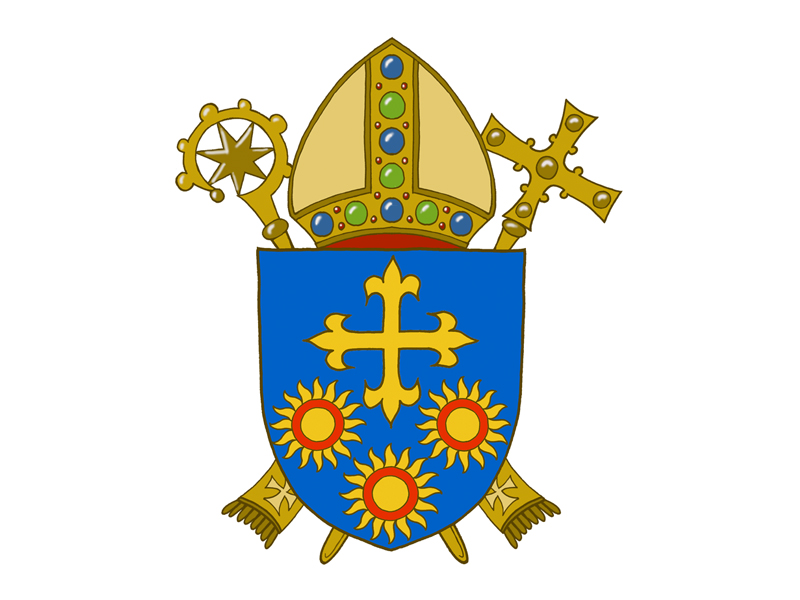 BLAZON. Azure, a cross flory above three suns Or, each charged with an annulet Gules (St Edmund's suns). Behind the shield a crozier and cross in saltire, the whole surrounded by a precious mitre.
The Arms of the Diocese bear the cross from the shield of Saint Edward the Confessor, whose miracle of the ring and the beggar took place in Romford within the diocese. That church was the first in the Diocese of Westminster to be built after the restoration of the hierarchy, so the oldest. St Edward the Confessor is a patron of the Diocese of Westminster, his shrine being the only pre-Reformation one in England not desecrated.
The three suns of Saint Edmund of Abingdon are an important part of the Recusant heraldic heritage and occur in the arms of St Edmund's College, Ware where Bishop Bernard Ward, Brentwood's first Bishop, had been Rector. The three suns refer to the Persons of the Holy Trinity, the red rings on them to a mystical dream Saint Edmund received when a teacher of geometry, as a means of explaining the Trinity.
The cross behind the shield is based upon the Metropolitan Cross of Westminster from which the Diocese of Brentwood was formed.
The Arms of every diocese bears the shield surmounted by the mitra pretiosa and with the crozier and cross behind.