The Diocese of Brentwood organises diocesan pilgrimages to Lourdes and Walsingham every year.
This year's pilgrimage to Walsingham took place on 27 May.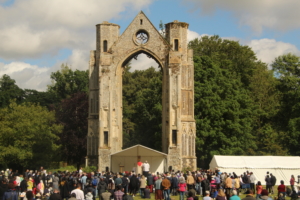 Led by Bishop Alan, it included Mass at the Basilica and a walk of the Holy Mile to the grounds of Walsingham Abbey to celebrate Vespers and Benediction on the site of the Holy House. (People with mobility issues, wheelchairs and buggies, prams and/or pushchairs were able to travel from the Shrine to the Abbey Grounds by coach if they were unable to manage the terrain of the Holy Mile.)
Fr Daniel Kelly, parish priest at the Royal Docks, organises the pilgrimage. Watch this space for next year's date.
The pilgrimage in 2022 was designed to be particularly family-friendly to dovetail with the X World Meeting of Families in late June. Many families responded to the invitation, with over 1,000 people attending. Read more here: Families enjoy 'a special day' at Walsingham – Brentwood Diocese (dioceseofbrentwood.net)
---
This year's ecumenical Bradwell Pilgrimage took place on Saturday 1 July.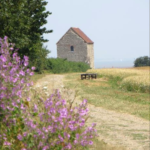 People from across Essex, East London and further afield were encouraged to attend. The pilgrimage always starts in the village itself at St Thomas's church and pilgrims walk the nearly two miles from St Thomas's to the beautiful St Peter's Chapel. It is a truly ecumenical day with a wide variety of people coming and speakers taking part and exciting workshops in the afternoon. The pilgrimage is organised by Churches Together in Essex & East London (CTEEL) www.cteel.org.uk
https://www.facebook.com/ChurchesTogetherEEL
---
This year's pilgrimage to Lourdes took place from 24-29 July.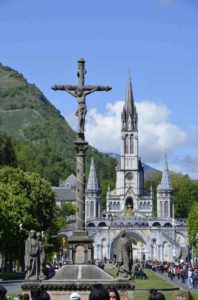 The Lourdes Theme for 2023: '…that a chapel be built here…'
Around 300 pilgrims, clergy and young people from Brentwood Catholic Youth Service travelled to Lourdes this year, led by Bishop Alan and other clergy including Canon Bob Hamill and Fr David Pearce.  Mgr Kevin Hale, Fr Graham Smith and Fr Mark Reilly travelled with groups from their parishes to meet up with the Diocesan Pilgrimage. Fr Michael Barwick and Youth Director Claire Bailey travelled with the BCYS cohort.
Read more about this year's pilgrimage here: Lourdes: 'a place of prayer, healing and fellowship' – Brentwood Diocese (dioceseofbrentwood.net)
Contact Suzanne Reeves or Kathryn Young for  information about next year's pilgrimage at [email protected]
---
Rebuilding a culture of pilgrimage through Pilgrim Ways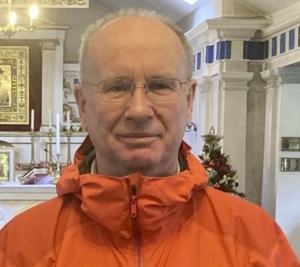 Indefatigable walker Phil McCarthy launched a website earlier this year detailing Catholic pilgrimage routes in dioceses across the UK, with the aim of encouraging people of all faiths and none to explore some of the holiest sites in England and Wales. 'Hearts in Search of God' is a three-year project, inspired by Pope Francis' words about pilgrims.  It maps out 22 pilgrimages, with each route starting at one of the Catholic cathedrals in England and Wales, before going on to at least one of the local shrines, with the shortest route being 10 miles.
In our diocese, Phil has mapped two pilgrimage routes for individuals or groups to follow. The first is the Way of Our Lady of Light, which is a 68-mile route from the Cathedral of St Mary & St Helen in Brentwood to the Shrine of Our Lady of Light in Clacton-on-Sea. It can only be walked during the summer months because the route involves two seasonal ferries at Brightlingsea and a short tidal causeway.
When the ferries are not operating (or at any time) pilgrims can walk the second and shorter St Peter's Way, which is 38 miles long and ends at the Chapel of St Peter at Bradwell-on-Sea. This is where St Cedd landed in 653AD on his mission to the East Saxons.
The Way of Our Lady of Light passes the recusant house of Ingatestone Hall and Catholic churches at Ingatestone, Stock, Danbury, Maldon, West Mersea, Brightlingsea and Clacton-on-Sea. The Way is through quiet countryside, river and coastal paths and is generally flat. Details of this and other routes can be found on the www.pilgrimways.org.uk website.
Read more about the project here: Rebuilding a culture of pilgrimage – Brentwood Diocese (dioceseofbrentwood.net)