The Diocese of Brentwood organises pilgrimages to Lourdes and Walsingham every year.
This year's pilgrimage to Walsingham will take place on 27 May.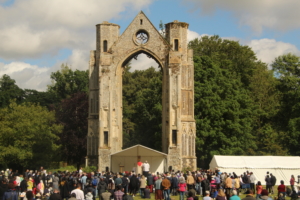 You are warmly invited to join Bishop Alan and other parishes around the Diocese of Brentwood in Walsingham. We will celebrate Mass at the Basilica and have lunch (packed) before walking the Holy Mile to the grounds of Walsingham Abbey to celebrate Vespers and Benediction on the site of the Holy House. (People with mobility issues, wheelchairs and buggies, prams and/or pushchairs will be able to travel from the Shrine to the Abbey Grounds by coach if they are unable to manage the terrain of the Holy Mile.)
Fr Daniel Kelly, parish priest at the Royal Docks, organises the pilgrimage. He says: "Last year's family-focused pilgrimage was a record breaker, so I look forward to seeing as many of you as possible this year to break the record once again! If you would like to come please contact your parish representative as soon as possible to ensure coaches are booked.
Last year's pilgrimage was designed to be particularly family-friendly to dovetail with the X World Meeting of Families in late June. Many families responded to the invitation, with over 1,000 people attending. Read more here: Families enjoy 'a special day' at Walsingham – Brentwood Diocese (dioceseofbrentwood.net)
---
This year's ecumenical Bradwell Pilgrimage will be on Saturday 1 July.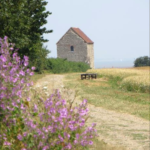 People from across Essex, East London and further afield are encouraged to attend. It starts in the village itself at St Thomas's church and pilgrims walk the nearly two miles from St Thomas's to the beautiful St Peter's Chapel. It is a truly ecumenical day with a wide variety of people coming and speakers taking part and exciting workshops in the afternoon. The pilgrimage is organised by Churches Together in Essex & East London (CTEEL) www.cteel.org.uk
https://www.facebook.com/ChurchesTogetherEEL
Bradwell Pilgrimage Article 2022
---
This year's pilgrimage to Lourdes will take place from 24-29 July.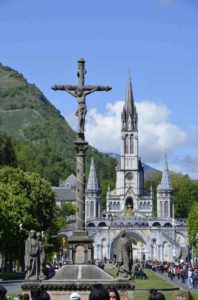 Lourdes Theme for 2023: '…that a chapel be built here…'
Dear Friends,
We can pray wherever we are.  We can honour Mary, the Mother of God, in any country.  But when Our Lady appeared to St Bernadette, she requested that a chapel be built above the Grotto.  Why?  Because she wanted people to come on pilgrimage to Lourdes. And so, in the summer of 2023, I shall lead a pilgrimage from our diocese to Lourdes so that I, and my fellow pilgrims, can grow through prayer, through mutual support, and through the care of those who need assistance.  Heaven meets earth in Lourdes.  It is a place of grace.  I hope you will join me.
Yours in Christ and Mary,
Bishop Alan Williams SM
To book for the pilgrimage, please follow this link: Brentwood Lourdes – Lourdes – Tangney Tours (tangney-tours.com)  Or phone Tangney Tours, our tour operator, on 01732 886666.
NB: Contact Suzanne Reeves or Kathryn Young for more information at [email protected]