Year of Mercy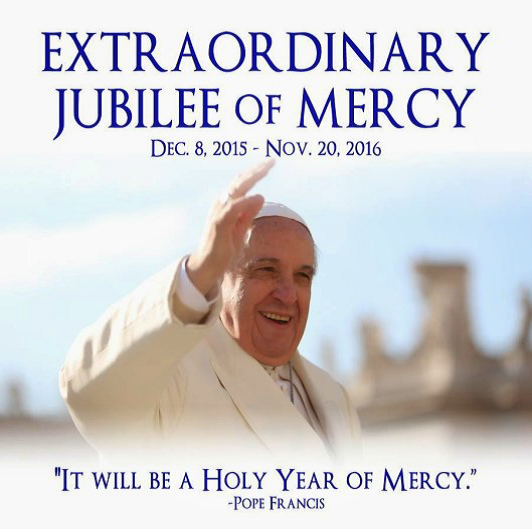 On 8 December 2015, the Solemnity of the Immaculate Conception, Pope Francis opened a Holy Year of Mercy.
The Pope desired that the year "will be steeped in mercy, so that we can go out to every man and woman, bringing the goodness and tenderness of God! May the balm of mercy reach everyone, both believers and those far away, as a sign that the Kingdom of God is already present in our midst!" (Bull of Indiction 5)
The Year will close with the liturgical Solemnity of Christ the King on 20 November 2016. Pope Francis announced the opening of the Year by making a Bull of Indiction.
Extracts from the Bull
Jesus, is the face of Mercy
'Jesus Christ is the face of the Father's mercy. These words might well sum up the mystery of the Christian faith. Mercy has become living and visible in Jesus of Nazareth, reaching its culmination in him.' (1)
Holy Door
'I will open the Holy Door on the fiftieth anniversary of the closing of the Second Vatican Ecumenical Council. The Church feels a great need to keep this event alive. With the Council, the Church entered a new phase of her history. The Council Fathers strongly perceived, as a true breath of the Holy Spirit, a need to talk about God to men and women of their time in a more accessible way.' (4)
Mercy is concrete
'…the mercy of God is not an abstract idea, but a concrete reality with which he reveals his love as of that of a father or a mother, moved to the very depths out of love for their child. It is hardly an exaggeration to say that this is a "visceral" love. It gushes forth from the depths naturally, full of tenderness and compassion, indulgence and mercy.' (6)
Never gives up
'In the parables devoted to mercy, Jesus reveals the nature of God as that of a Father who never gives up until he has forgiven the wrong and overcome rejection with compassion and mercy. (9)
Bishops' Advent Reflections for the Year of Mercy