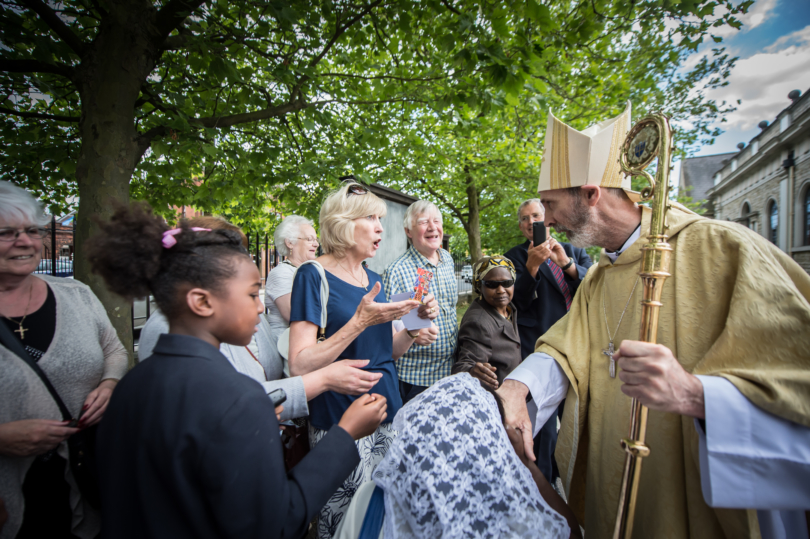 Three Steps on Our Journey Together
There are three basic steps to get people talking and listening to one another as we journey along this Synodal Pathway together. Firstly, we would encourage a visual or interactive activity that people can contribute towards over time. Followed by taster questions that are included at gatherings that already take place in your community. Finally, local listening sessions provide an opportunity to prayerfully reflect on the themes of Our Journey Together and listen to the Holy Spirit speaking through one another.
Starter Activities
The purpose of an interactive starter activity is to get people involved in the conversation. The simple anonymous approach will help people to consider and respond to the question posed and may get people talking to one another as they participate. Here are some ideas of interactive starter activities that could be done in your community.
Taster Questions
It is with this question that we journey together along our Synodal Pathway. Every group and organisation within your community has the opportunity to contribute towards revealing God's call on the Church today. Whether a board of governors or parish council, could you set some time aside to address questions that help us to explore one of the following?
Explore the signs of the times
Live Communion
Achieve Participation
Be open to Mission
Listening Sessions
The listening exercises below have been created to enable a prayerful response to the questions posed. All enable a prayerful reading of the scripture and should include time for people to share their insights in a small group setting. It is possible for someone to note what has been said during the meeting and type them in afterwards, but these listening exercises make it possible to type and send us your feedback as your session takes place.
Conversation Starters
Graceful listening happens most easily in a prayerful setting; however, we also want to hear from people who would not come to Church so have developed some informal conversation starters that could be used around a dinner table, at a café or in the pub.
The text message style means that one person can spark a conversation on a theme. What develops between the people talking is the most important element of what happens. However, once a question has been explored, an answer can be typed in and another question posed. The group could each have the conversation starter on their device or they could ask one person to type in a summarised response.