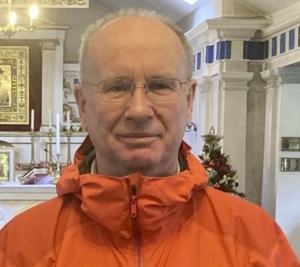 Indefatigable walker Phil McCarthy launched a website earlier this year detailing Catholic pilgrimage routes in dioceses across the UK, with the aim of encouraging people of all faiths and none to explore some of the holiest sites in England and Wales. 'Hearts in Search of God' is a three-year project, inspired by Pope Francis' words about pilgrims.  It maps out 22 pilgrimages, with each route starting at one of the Catholic cathedrals in England and Wales, before going on to at least one of the local shrines, with the shortest route being 10 miles.
A retired GP, Phil was CEO of Caritas Social Action Network (CSAN) until 2021.  He was considering what to do next when he went on a walk from Clifton Cathedral to the diocesan shrine at Glastonbury. "I suddenly felt that I wanted to rebuild a culture of walking pilgrimage and share it with other people," he says. "England is quite unusual in that pilgrimage was actually banned by Act of Parliament in 1538 by Thomas Cromwell.  So we lost the shrines, very often the cathedrals, and we lost the religious infrastructure along the way."
Phil's idea was to create a 'pilgrim way' in each Catholic diocese – from the cathedral of that diocese to one or more shrines within the same diocese. He has created a website for the routes, and is gradually walking them and adding the directions so people can follow them easily.
He recently completed the Way of Our Lady of Light in Brentwood Diocese, which is a 68-mile route from the Cathedral of St Mary & St Helen in Brentwood to the Shrine of Our Lady of Light in Clacton-on-Sea. It can only be walked during the summer months because the route involves two seasonal ferries at Brightlingsea and a short tidal causeway.
When the ferries are not operating (or at any time) pilgrims can walk the shorter St Peter's Way which is 38 miles long and ends at the Chapel of St Peter at Bradwell-on-Sea. This is where St Cedd landed in 653AD on his mission to the East Saxons.
The Way of Our Lady of Light passes the recusant house of Ingatestone Hall and Catholic churches at Ingatestone, Stock, Danbury, Maldon, West Mersea, Brightlingsea and Clacton-on-Sea. The Way is through quiet countryside, river and coastal paths and is generally flat. Details of this and other routes can be found on the www.pilgrimways.org.uk website.
From boyhood Phil had been interested in long distance walking, undertaking the Pennine Way with three school friends after exams at 16 – and repeating the adventure with the same friends many years later in 2022.
In 2008, he took a three-month sabbatical from his job as a GP in Bristol to walk the ancient Via Francigena pilgrim route from Canterbury to Rome in 2008. After he retired from the NHS in 2014, he walked from Rome to Istanbul, across Albania, Macedonia and Greece. Along the way he spent Easter at the Holy Mountain of Athos, then cycled to the battlefields of Gallipoli in the centenary of the World War One landings. "I wrote a book about each experience," he says.  The books, Rome Alone and The Dusty Roads of History, raise funds for St Joseph's Hospice in Mile End, in memory of Phil's grandfather Eugene McCarthy, who was born in the vicinity and died at the Hospice.
"When you go on pilgrimage, you participate in a practice which is ancient and universal," says Phil. "Walking pilgrimages are slow, humble journeys in constant contact with the Earth. They encourage awe at the magnificence of creation."
The benefits are both physical and psychological, he says, noting that he has lost two stone in weight. "Walking is good in a warming world, allowing people, and particularly young people, to engage, post-pandemic, with each other and the environment. Walking on your own builds psychological resilience and helps you develop a grounded spirituality as you become aware of  your slow progress over the earth, in touch with creation."
In a time when people are searching for meaning in their lives, pilgrimages can be a bridge between church and the secular world, he says. "Viewers are often fascinated by celebrity pilgrimages on TV – and the difference they make in people's lives. Periods of solitude, reflection and encounter – meeting people you wouldn't normally meet and experiencing hospitality and charity – can be very fruitful."
"I hope the new Pilgrim Ways will be an opportunity for Christians to deepen their faith, but also for people of all faiths and none to experience a pilgrimage in a Catholic context and with the minimum of financial and environmental cost."
The pilgrimways.org.uk  website provides walking guides, GPX files, prayers and other resources, including a downloadable 'Pilgrim Passport', and a certificate at the end of your walk, echoing that of the famous Camino de Santiago in Spain.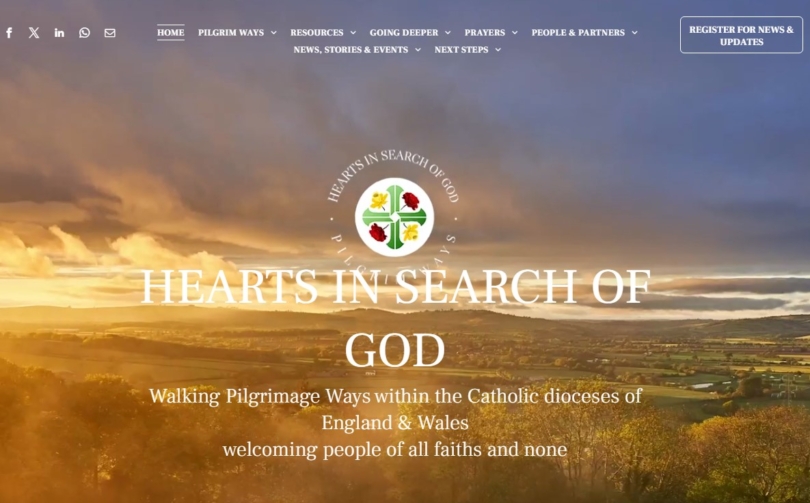 It also offers advice to those taking up the challenge, both physical and spiritual. Says Phil: "Be sure to get some walking practice in, covering the distance you will need to walk each day. Plan your route and take the right footwear, waterproofs and blister plasters. And think about why you are doing it and what you want to get from the pilgrimage. Consider keeping a journal to record the good and the bad moments of your journey. There are prayers and reflections on the website as well as stories and accounts from fellow pilgrims."
He adds: "I hope the Ways might be useful to Catholic charities for fundraising walks, but you don't have to be formally religious or be walking as a part of a big group to follow them. Walking allows us all to pay attention, to notice small things and to enjoy ordinary places."