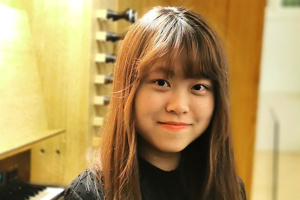 Hope you can join us at Brentwood Cathedral on Wednesday 20 November at 1pm – 1.40pm for a lunchtime organ recital to be given by Tsz Kei Yeung from the Royal College of Music, London.
Tsz Kei Yeung is an eighteen-year-old organist from Hong Kong, in her second year studying for a Bachelor of Music at the Royal College of Music with David Graham for organ and Jianing Kong for her second study in piano.
Before her study in London, Tsz Kei participated in various activities on the electone (electric organ). She became national electone champion in 2017-2018 and represented Hong Kong in the Asia Pacific Electone Festival (APEF) in Singapore and Indonesia respectively.
Last year, Tsz Kei participated in a masterclass with Thomas Trotter at the RCM. She had also given an organ joint recital in Christchurch Chelsea, London this year with other RCM organ students. This is her first organ recital in London/Brentwood.
Her programme will consist of the following four pieces:-
Johann Sebastian Bach               BWV 564 Toccata, Adagio & Fugue in C Major
Louis Vierne                                   Clair de Lune
César Franck                                 Chorale no. 3 in A min
Josef Rheinberger                         Intermezzo (Sonata 6)
Refreshments will be provided afterwards in the Song School. Admission is free, but there will be a retiring collection to help to fund these recitals. All welcome.