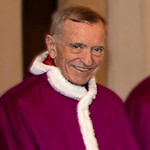 Canon Anthony McKentey has died in hospital after a long illness.
Bishop Alan Williams has offered his prayerful sympathy to his family and many friends and has asked priests across the diocese to remember him in prayers and Masses.
Fr  Tony was born on 11 November 1950 in Chelmsford.  He was educated at Campion School, Hornchurch and St Edmund's College, Ware. He was ordained on 27 March 1976.
He served as Assistant Priest at Benfleet (1976-1979), Barkingside (1979-1984) and Brentwood Cathedral (1984-1988). He was Parish Priest at Barkingside (1988-2001), Braintree (2001-2009), Colchester (2009-2017) and Halstead (2017).
His diocesan roles included Diocesan Consultor; Chapter Canon; Treasurer/Secretary of the Brentwood Ecclesiastical Education Fund.
Fr Tony's body will be received into the church at St James the Less, Colchester on Thursday 21 December at 4.30 pm and a Requiem Mass will be celebrated at 11.30 am on Friday 22nd December followed by cremation at Three Counties Crematorium, Halstead Rd, Braintree CM7 5PB at 3 pm.
Refreshments will be served in the Cardinal Bourne Hall, Colchester following the Mass.