The funeral Mass for Fr Ivor Morris, a member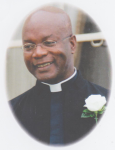 of the Ordinariate of Our Lady of Walsingham, was conducted by Bishop Alan Williams on 16 March at The Blessed Sacrament, Chelmsford.
Fr Ivor had been ill for some time and died in the early hours of 1st March, in the presence of his beloved sister Norma. After being taken ill in October of last year, Fr Morris remained in hospital, most recently in London where his Ordinary, Mgr. Keith Newton, was able to visit and pray with him.
Fr Morris served the Anglican Church of The Ascension, Chelmsford for 20 years before accepting the Holy Father's invitation and joining the Ordinariate in the first round of ordinations. He served the Diocese of Brentwood as Priest-in-Charge of the Blessed Sacrament, Chelmsford and as chaplain to Broomfield Hospital.
Parishioners at Danbury and South Woodham Ferrers also remember him fondly as he did supply work for them for many months while parish priest Fr Robert Mortimer-Anderson was ill. His kindness to Fr Robert, whom he visited in hospital frequently, was also much appreciated.
Fr Bob White, who gave the homily at Fr Ivor's funeral, writes:
Ivor Morris was born in Jamaica in 1950, but came to London with his parents during his early childhood. He spent his schooldays and early adult life in East London, and began his working life in the Tax Office.
I first met Ivor in the autumn of 1983, when I went to Chichester Theological College where he was training for the Anglican Ministry. At that time I was the Anglican Team Rector of the Southend on Sea Team Ministry and I went there to interview him for a title post in the Parish. Following that meeting, I was pleased to welcome him to Southend and to steer him through his ordination and early formation. Southend in the 1980s had all the social problems in the book, and had been designated as an area of urban deprivation. Ivor, with his kindly and gentle disposition seemed to thrive in this environment, soon gaining himself a reputation for pastoral care.
After three years in Southend, he moved to a second curacy at St Mary's, Somers Town with Old St Pancras. This well-known Anglo-Catholic Parish proved to be an even greater challenge, and after three hectic years Ivor moved back to Essex as the vicar of The Ascension, Chelmsford, where he ministered faithfully for 21 years, until 2011, when together with six other priests from the Diocese of Chelmsford, he resigned to join the Ordinariate of Our Lady of Walsingham.
I shall never forget processing into Brentwood Cathedral next to Ivor Morris on 11 June 2011 where we were both ordained as Catholic priests alongside each other. I guess we both realised that this had always been our destiny.
We had kept in regular contact with each other for the last 30 years, and never quite lost that vicar/curate relationship. Ivor would often ring me during the evening to ask my advice, or to share some pastoral problem in his parish – and I was always impressed by his conscientiousness and diligence as a priest, and his willingness to seek and accept advice. It was this, along with his considerable pastoral gifts, that endeared him to the congregations he served – not least at The Blessed Sacrament, Chelmsford, and at Broomfield Hospital where he was a much loved chaplain.
He will be greatly missed, both within the Ordinariate, and within the Diocese of Brentwood.