Seeing refugees as our sisters and brothers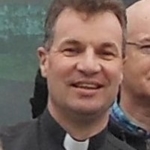 Fr Dominic Howarth gives his latest update after a visit to Calais with an entirely new crew of young volunteers from Basildon and beyond. "They each approached it with apprehension but soon found that refugees are as normal as you and I, goodhearted, hard-working people, caught in hideous circumstances," he says.
This became clear through conversations about football with Imad, a young African and passionate Man Utd fan, observation of the self-started cafes and shops, a visit to the lovingly built church, and lastly and most profoundly, an invitation to have tea and conversation with some Bedouin brothers in their tiny shelter.
Says Fr Dominic: "On the ferry home, we used words like 'humbling, unexpected, welcoming'. The young people marvelled about the resilience they had seen: "they have built so much out of nothing." One question was particularly interesting, he says. "If it happened to us, if we suffered from war and terrorism so much that we had to leave home, I wonder if we would cope?"
Fr Dominic adds: "Today was one of the simplest trips so far – easy distributions, easy journeys – and yet also one of the most profound. Seeing it through the fresh eyes of the young adult volunteers, my heart returned to the words Pope Francis spoke in Greece a few weeks ago: 'Refugees are not numbers; they are people who have faces, names and stories, and need to be treated as such.' Today we had the privilege of sharing Sammy and Sa'ad's story – and their tea. We know their names, their faces – as well as having very fond memories of their kindness, their desire for hair gel and their immense, simple and profoundly generous hospitality. As one of the crew said, 'They have almost nothing themselves – and they are sharing it with us'. Such encounters remind us that we are all, truly, sisters and brothers."