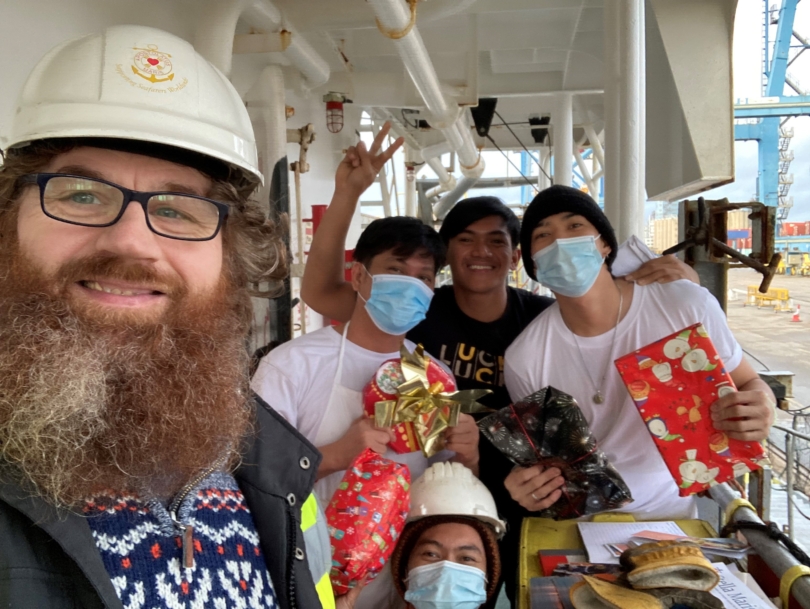 Most of us want to be at home at Christmas, surrounded by family and friends. But if you are a seafarer, you're likely to find yourself in a port somewhere in a foreign land.
This can serve to enhance the loneliness and isolation many seafarers already experience when they are thousands of miles away from their families.
Typically, they are away at sea for ten months at a time, often working twelve hours a day for low pay and living in cramped conditions and little in the way of creature comforts.
Even on the largest container ships, such as the MSC Irina, which is 400 metres long and can carry 24,000 metal containers, a crew might just consist of up to 25 seafarers. Working on such a huge ship with so few other seafarers can be a lonely experience and exhausting work.
"Many seafarers will spend Christmas at sea," says Wojciech Holub, Stella Maris regional port chaplain in Tilbury, Essex. "If the port does not operate on Christmas Day, many other seafarers will remain on their vessels, which stay anchored in waters outside it to cut running costs."
When we are doing our Christmas shopping we might not be aware that an estimated 95 per cent of all the food and other goods imported into the UK arrive by ship.  This includes fridges, computers, cars, oranges, and coffee, to name just a few items.
If it wasn't for the seafarers who work on these ships, then many of the shelves in our shops would be empty – and children everywhere would be disappointed when they got up on Christmas morning.
Wojciech and other Stella Maris chaplains around the coast of Britain try to bring some of the Christmas message to the ships they visit.
Assisted by a team of volunteers, Wojciech also makes up Christmas parcels. These contain items such as socks, woolly hats, chocolates and toiletries.
"When it comes to celebrating Christmas on board a vessel this can take place during Advent or in January, as ships might be in the middle of the sea on Christmas Day," he explains.
Not being able to be at home with their families at Christmas is hard for seafarers. It is not uncommon to hear from a seafarer that he has not spent a Christmas at home for many years.
Through small gestures Wojciech and other Stella Maris chaplains in ports around the country attempt to make Christmas special for seafarers. And they know just how important these small gestures are.
If readers would like to find out more about helping a seafarer this Christmas, the work of Stella Maris and opportunities to volunteer or donate to support it, go to www.stellamaris.org.uk
Let us also pray for seafarers and fishers and their families at this special time of the year.