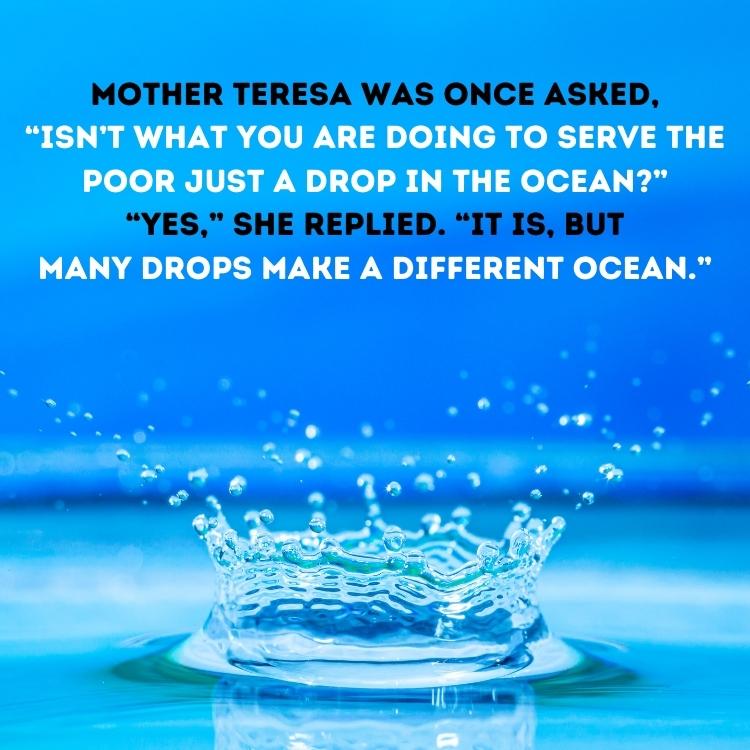 We might think that on our own we can't make much of a difference. Certainly there are many issues around Climate Change and Social Justice that require a great deal of effort from Governments and Industry. We can campaign for such change, with the distinctive voice of faith.
Individually, we each also have our part to play; every one of us, making small changes, can together make a big difference. Remember the three pledges each person in the Diocese is encouraged to make; that's over 40,000 people together making over 120,000 changes! If you are reflecting on your pledges, or searching for fresh ideas, then hopefully these are helpful – choose those you are passionate about, and enjoy the journey!
---
Pray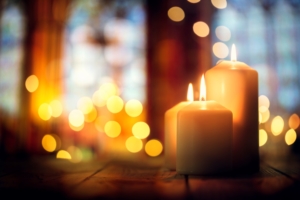 Each of us can pray and as Catholics, it is a vital response to the Climate Crisis. A natural moment of Laudato Si' prayer is grace before meals – recognising that our food and drink are the gift of God, and as a way of honouring those who have picked, mixed, prepared, and cooked the ingredients.
---
There is a special Diocesan prayer, written for the launch of our Laudato Si' Invitations, Commitments and Actions; you are warmly welcome to download and pray the prayer It is in a "display version" which will print cleanly so that you can use it at home, in your parish or at school.
Next to the text of the prayer is a picture from the Sagrada Familia Church in Barcelona. Gaudi, who designed the church, imagined the light shining through the stained glass like the light shining through the canopy of a forest, falling in dappled greens and blues, orange and yellow, on the forest floor. The architecture of Sagrada Familia reflects this, with interior columns giving the impression of trees. It is a UNESCO World Heritage site and a stunning place to visit.
Help nature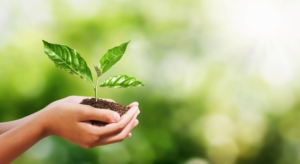 Rewilding, seed bombs, hotels for bugs, water for birds and hedgehogs …
Whether you have a garden or a window box, you can give nature a hand. Use the websites below to choose plants that help bees and butterflies, learn how to build hotels for bugs, understand what to do to help hedgehogs thrive, and when to put out extra water for the birds. For families with children and for those who love seeing their garden or local park alive with the wonders of nature, the tips on these sites will help wildlife to flourish and bring great colour and vibrancy.
The Woodland Trust have a tremendous website, and they do wonderful work preserving and creating woodlands. They have some special pages on how to build a bug hotel 
To help hedgehogs, have a look at the passionate work of the British Hedgehog Preservation Society. If you are feeling ambitious, use information from the Wildlife Trusts to build a hedgehog house, to help this increasingly endangered creature.
Seed bombs are a brilliant springtime activity, to easily create a colourful patch of garden with bee- and insect-attracting flowers. Find out how to make a seed bomb here.
If there are other websites you would like to recommend, please email us:

[email protected]

and we will gladly add them here. Activities such as making seed bombs can also be done together as a parish, or a group of families. 
Eat a more plant-based diet
Methane gas is a by-product of meat production; it also contributes to climate change. To become vegetarian, or vegan, even for two or three days a week, is both healthy for you and good for the planet.
When out shopping – for anything you are buying – have a look at the label and see the miles the food has travelled. The very best things are seasonal fruit and vegetables, locally grown. If you can't find local products in your supermarket, email them about it – or add it to your social media, tagging them in. This is what causes things to change!
When you make changes to your diet, especially if becoming vegan, be sure to make changes gradually and take advice about iron and other mineral supplements. You'll find excellent professional advice from the NHS and from the BBC Good Food Guide – this also includes links to many tasty recipes!
In your flat or house
There are some things that are so simple and easy. They cost nothing, save you money and save energy and water:
Turn off lights when you leave the room;
Turn off the tap when you are brushing your teeth;
Only boil the amount of water you need in the kettle;
Turn the heating down by one degree;
Completely power off TVs, computers and other appliances, rather than leaving them on standby.
If you are renting a house or flat you may need the permission of the landlord, but this should also be quite easy: change light bulbs to LED. Check your fittings will take LED bulbs (almost all will, but you will need care with dimmable bulbs). LED lights use far less energy than any alternatives. https://energysavingtrust.org.uk/advice/lighting/
---
If you own your home, there is, even more, you can do… 
Reduce energy use, check your insulation, and consider your energy sources
If you own your own home you are probably paying significant energy costs. As with so much Laudato Si' inspiration, doing what is good for the planet, God's creation, and for the poorest people in it, is also good for us. The ideas here will save you money and help the air we all breathe to be cleaner and clearer. Some are quick, some will take time and initial expenditure, but will then save a great deal of money and energy.
Intentionally, we are not recommending any commercial providers here. Instead, for each of the areas mentioned, we advise you to look at the website of the Energy Saving Trust where you will find excellent, up-to-date, impartial information. This will help you in asking the questions you need to be answered when you contact a commercial supplier.
Add insulation to your home. Adding insulation, especially in the loft/roof cavity as well as in walls, will significantly reduce the energy needed to heat your home. You might also find there are grants available to help with this, especially if you are a pensioner or on a low income. Ask your local Council. https://energysavingtrust.org.uk/energy-at-home/reducing-home-heat-loss/
Seek electricity and gas suppliers that use renewable sources. Ask your existing energy supplier where they source their energy – some may offer you a mix of more renewable sources. There are also suppliers who only use renewables (wind or solar power, mainly).
When your boiler is near the end of its life, look for alternatives. Solar panels, air or ground source heating, or biomass boilers are all possible, though they will work differently in different settings, and the cost of installation may be too much for you (though again, grants may be possible – have a look at https://www.gov.uk/domestic-renewable-heat-incentive). Technology here is moving quickly and prices are falling all the time, so if your boiler is due for renewal, do check alternatives.
Shop Fair Trade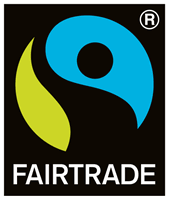 The Fair Trade mark guarantees that the product has been made in a way which minimises environmental impact – and by workers being paid a fair wage. It stops exploitation and child labour, and makes an enormous difference to communities across the world.
Fair Trade tea, coffee, sugar and chocolate are generally fairly easy to find in major supermarkets; if they are not there, please email the supermarket and ask why, or use your social media to ask the question. With a look online you will find Fair Trade footballs, wine, gin, trainers and clothes. https://www.fairtrade.org.uk/
Walk and cycle more

For those on low income, the costs of running a car or using public transport may be too much; to those who already walk and cycle everywhere, thank you. 
Many of us, however, hop into the car for even the shortest journey. In fact, most car journeys in the UK are to a destination less than two miles away. Think about your own car use – does that apply to you? Sometimes, especially for those who are ill, there are limited choices; but most of us, most of the time, could walk or cycle far more than we do.
A great place to start could be your journey to church, especially if you live in a London Borough or a town with a Catholic church less than two miles away. It would mean a 20-30 minute walk, or a 5-10 minute cycle. Imagine the effect if you started walking to church – and then met others on your route, gradually making a habit of walking together. It could be your very own "Road to Emmaus" – chatting and discovering truths about each other, and Jesus, on the way! It could be a witness to your neighbours – seeing someone walking each day, or each Sunday, prompts a different kind of conversation than someone just jumping in a car.
If you need any more convincing, have a look at page 14 of the Diocesan Laudato Si' Invitations, Commitments and Actions Document. As Catholic parishioners in Brentwood Diocese we are driving approximately 3.5 million miles to Mass each year, generating 798 tonnes of CO2. This can change, if we all play our part! And if we are too frail or ill to walk, why not give someone else a lift, so our car is full, and we are using one car, not two.
Grow your own fruit and vegetables
Even if your garden is quite small, or you only have window boxes, there are things you can grow in order to eat them, which helps the planet, helps keep your food costs down and means you are eating fresh! 
Campaign for change
Each of our individual actions matters – "many drops make a different ocean" – but undoubtedly the Government, and large companies, have particular and serious responsibilities. Some things – like how energy is produced, which packaging is used, whether there are incentives to use public transport, and whether climate tariffs are added to food and drink and household items that travel many miles – all require Government and industry to work together.
Change happens quicker when people raise their voices – politely, but firmly and clearly. You don't have to glue yourself to a plane at City Airport, or lie down in the fast lane of the M25. But all of us – with Christian voices, and inspired by Christ – should have the courage to call out injustice when we see it. This could be workers not being paid a fair wage, or companies using packaging which damages the planet.
Writing to your MP can make a difference – especially if this is part of a local or national campaign. You are the ones with a vote, and if they receive a lot of emails or letters on the same subject, it does affect the laws that are passed. Find out here who your MP is, and how to contact them: https://www.parliament.uk/get-involved/contact-an-mp-or-lord/contact-your-mp/ 
Cafod has a section devoted to current Campaigns. This includes both political campaigning and campaigning to influence large companies. Read more here: https://cafod.org.uk/Campaign/Latest-campaigns 
Posting on social media (Twitter, Facebook, Instagram or TikTok), especially creating posts where you tag in companies, can have a very quick effect. Most large companies have people monitoring their social media engagements, and they don't like negative stories. A well-phrased post can also be picked up by others – of all faiths and none – and gain momentum. Adding a picture also helps – and it is best to use one you have taken personally (so you can be sure it is genuine, and so you don't have any copyright issues).
Contacting your local supermarket, or if there is a company with headquarters local to you, also makes a difference. If, for example, your local Tesco or Sainsbury's does not have Fair Trade products, a direct email to the manager of the store can make a surprising difference – again, especially if you can get others in your parish, school, family, or workplace to write at the same time.