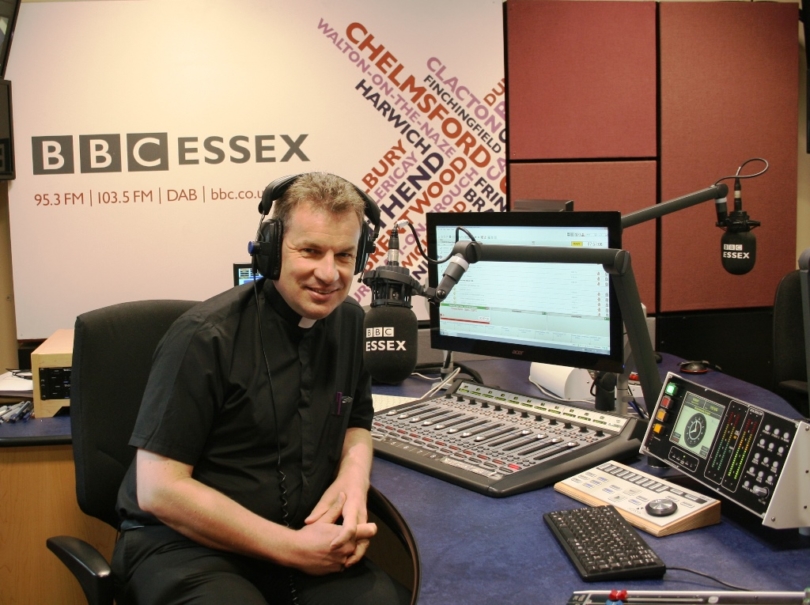 Listeners to BBC Essex's Sunday Breakfast programme will hear a different voice for two weeks in September. Catholic priest Fr Dominic Howarth is set to take the microphone while regular presenter Peter Holmes is away.
Fr Dominic served for over eight years as parish priest at Basildon – a large parish with three churches and a very diverse congregation. He now works in pastoral formation within the Diocese of Brentwood. This involves working with young people who come on retreats to Walsingham House at Abbotswick. He also works in schools and parishes, and with catechists, teachers, priests and all those who journey with young people. He recently took a large youth group to Lourdes and in January 2019 will be travelling to Costa Rica and Panama with 35 young people to join Pope Francis for the next World Youth Day.
He said: "It is the first time I have done anything like this as a presenter – I am nervous but excited to have such an unusual opportunity.
"Having been on the other side of the desk many times before, I know Sunday Breakfast is a lively, informative programme and I hope to do it justice and keep up the good spirit that Peter Holmes and his team convey every week to listeners."
In doing the show, Fr Dominic says that, like every presenter, he will be following BBC guidelines. "The idea is to be encouraging to draw out the best from people without imposing a particular faith perspective. However, presenting is an opportunity to offer a different insight into the Catholic faith for listeners from all faiths and none. After all, most people only encounter a priest at a wedding or a funeral, so this is a great opportunity to show a different dimension to priesthood."
Managing Editor of BBC Essex Lou Birt says:  "I first encountered Fr Dominic at one of the BBC Essex carol services.  The passion with which he speaks is inspiring and I remember thinking at the time that I'd love to hear him present a programme.  I'm delighted he's joining our team.  Hearing voices from the community on air is an important part of what we do at BBC Essex and I'm sure he'll be an absolute natural behind the microphone."
Fr Dominic will be presenting the Sunday Breakfast programme for BBC Essex on 9 and 16 September, from 6am til 9am.
BBC Essex – 95.3 FM, 103.5 FM