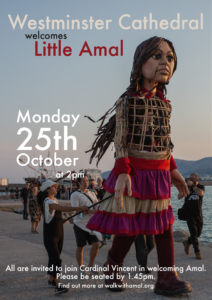 The Diocese of Westminster is to welcome Little Amal, the 3.5m puppet of a young refugee girl that is walking from the border of Turkey with Syria to Manchester, to Westminster Cathedral on Monday 25 October at 2pm.
Created by the Handspring Puppet company (of War Horse fame), Little Amal is at the heart of The Walk, an innovative public artwork bringing together celebrated artists, major cultural institutions, community groups and humanitarian organisations. Representing all displaced children, many separated from their families, Little Amal is travelling over 8,000km embodying the urgent message "Don't forget about us".
At this time of unprecedented global change, The Walk is an extraordinary artistic response telling a new story of shared humanity – and ensuring the world doesn't forget the millions of displaced children, each with their own story, who are more vulnerable than ever during the global pandemic.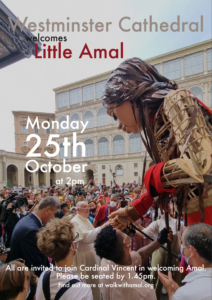 Little Amal represents the thousands of children who, just like her, have fled war and persecution and need access to education and essential support to rebuild their lives. Her 'story' is that she will soon turn 10 and is walking to try to find her mother.
One of her stops on The Walk was in the Vatican where she was met by Pope Francis. Westminster Cathedral is another halt on her journey to Manchester – and is the only one at a Catholic church. Children are encouraged to attend each event and to interact with her in some way. Westminster is hoping as many families as possible come to meet her in order to highlight the story of millions of children fleeing from war and persecution.