Diocesan Service for People who are Deaf and Hard of Hearing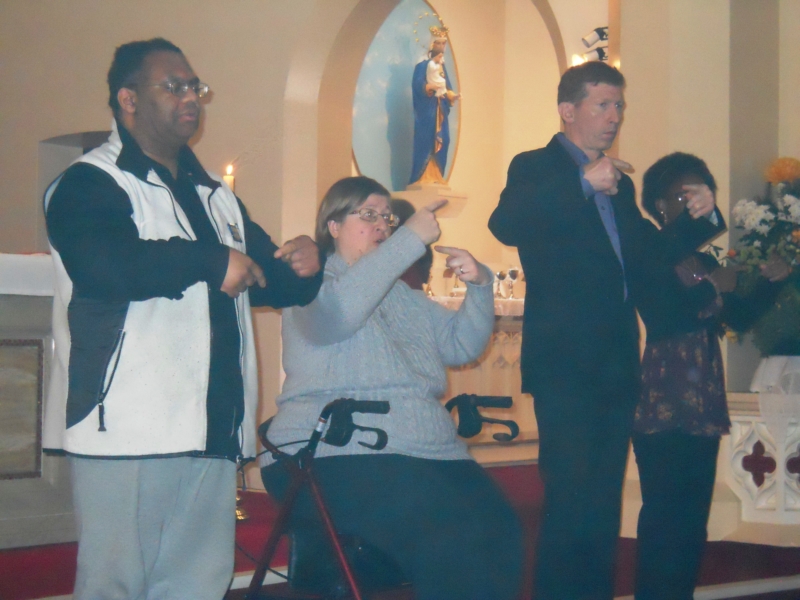 Welcome to the Brentwood Diocesan Pastoral Deaf Service which aims to support Catholics who are deaf or hard of hearing to play a full role in the life of the Church.
Aims of the Service
To break open the Word of God to deaf and hard of hearing people.
To enable clergy to understand the special problems associated with deafness and respond positively and confidently.
To help parents share their faith with their children.
We offer:
Signed Mass on the 3rd Sunday of every month at 3:30pm at St Mary and St Ethelburga, Barking.
11am Mass at St Bede, Chadwell Heath is sign-communicated on the 4th Sunday of the month.
Communication support where possible.
To whom:
Deaf children of hearing parents; (90% of deaf children are born to hearing parents with no experience of deafness.).
Deaf families.
Deaf parents of hearing children.
In addition to this, the Brentwood Deaf Service organises or participates in several regular events, such as the annual Walsingham Pilgrimage and events organised by the Catholic Deaf Association.
Some practical steps for everyone to improve access for deaf and hard of hearing people:
Loop system used by all addressing the congregation.
Good lighting on the faces of all addressing the congregation.
Mouth clearly visible.
Hymn numbers clearly displayed.
Clarity of language in the newsletter.
Notes on the homily.
Some creative ways to involve deaf people:
Eucharistic ministers
Welcome ministry
Altar servers
Brentwood Deaf Service Newsletter
Clergy in our Diocese who can use sign language
Rev. Fr. David Clemens (Chaplain to the Deaf Community)
Rev. Fr. Paul Fox
Rev. Fr. Bob Hamill
Rev. Fr. Dominic Howarth
Rev. Fr. Frank Jackson
Rev Fr Daniel Kelly
Rev Fr Gerald Gostling. (Presently in South Africa)
Visiting Priests from neighbouring Dioceses who can sign are:
Fr. Keith Stoakes (Poplar and Limehouse),
Fr. Paul Fletcher SJ, from Wimbledon.