The next lunchtime music recital in Brentwood Cathedral will be on Wednesday 25 January.  William Waine, countertenor, and pianist Jonathan Venner will be performing music by Vivaldi, Bach, Purcell, Handel, Bridge Pärt, Bernstein and Howells.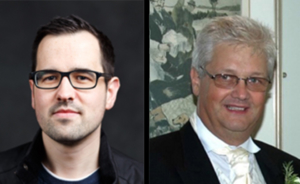 William Waine (left)began singing at the age of six in the choir of his father's parish church in Romford, Essex, before taking up a Choral Scholarship to Christ Church, Oxford. William sang with the world-famous Cathedral Choir on Gramophone Award-nominated recordings, and tours to the USA and China. Since 2017, after spells in the choirs of Gloucester and Chichester Cathedrals, he has been based in London, working with various ensembles including the choirs of Westminster and St Paul's Cathedral; The Erebus Ensemble; The Hanover Band; and The English Concert in a staged production of Handel's Messiah at the Bristol Old Vic which was broadcast in cinemas across the country. As a soloist, he has appeared across the UK; live on BBC Radio Three; and as far afield as Sydney, Australia and Christchurch, New Zealand. He founded and manages NMH, a professional vocal ensemble, and was the founding Musical Director of the Chichester Cathedral Voluntary Choir. He also works as part of the Liturgy and Music Department at Westminster Cathedral.
Jonathan Venner (right) is Organist Emeritus of St Edward's Parish Church, Romford having retired after 47 of service years in September 2021. He was appointed whilst still a student at the Royal Academy of Music and went on to establish a fine tradition of choral music. Jonathan was for 26 years a lecturer at Havering Sixth Form College where he held the position of team leader for the media and performing arts sector. Jonathan has received several honorary awards including the 'Mayor's Civic Award' for service to music education in Havering. In the Queen's Birthday Honours 2015 he received the British Empire Medal (B.E.M.) and In 2019 Jonathan was elected as Associate of the Royal Academy of Music (ARAM), an award given to past students who have distinguished themselves in the music profession and made a significant contribution in their particular field.
The recital will be at the usual time of 1pm to 1.45pm and refreshments will be provided afterwards in the Song School.   All welcome.