This webinar provides an introduction to comparative judgement and is suitable for all primary teachers but particularly those who lead RE, Assessment leaders and Senior Leaders.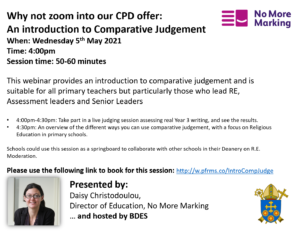 4:00pm-4:30pm: Take part in a live judging session assessing real Year 3 writing, and see the results.
4:30pm: An overview of the different ways you can use comparative judgement, with a focus on Religious Education in primary schools.
Schools could use this session as a springboard to collaborate with other schools in their Deanery on R.E. Moderation.
Presenter: Daisy Christodoulou, Director of Education, No More Marking.
Hosted by: Brentwood Diocesan Education Service.
To book your place please complete this form.