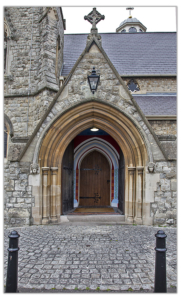 Brentwood Cathedral's next Year of Mercy Mass will take place on Sunday 28 August at 6.30pm.  This month it will focus particularly on welcoming those who have been affected by abortion. Fr Martin Boland, Dean of the Cathedral says: "Do you live with the pain or sorrow of having had an abortion? Do you deeply regret encouraging or assisting in an abortion? Have you been affected by the after-effects of an abortion? You and all people are warmly invited to join the community at Brentwood Cathedral and come into the presence of the living, merciful God." 
Canon Martin O'Connor, parish priest of St Bede's, Chadwell Heath, will preach at the Mass.
As part of the Jubilee Year of Mercy instigated by Pope Francis, each month the community at Brentwood Cathedral has been inviting the stranger, the wounded and all those searching for spiritual sanctuary to join them in the presence of the all compassionate God. So far, they have welcomed the traveller community; those who are separated, divorced, remarried or who are experiencing difficulties in their marriage; refugees, those enslaved by all forms of human trafficking and those who help and care for them; LGBT men and women and their families; doctors, nurses, carers and those who minister the medicine of mercy to the sick; those trapped by any destructive addiction or dependency; those who are either unemployed or have been made redundant and are struggling to find work and make ends meet; and single-parent families and their children.
Pope Francis explains the main reason why he decided to call this jubilee year:
"We need constantly to contemplate the mystery of mercy. It is a wellspring of joy, serenity and peace. Our salvation depends on it. Mercy: the word reveals the very mystery of the Most Holy Trinity. Mercy: the ultimate and supreme act by which God comes to meet us. Mercy: the fundamental law that dwells in the heart of every person who looks sincerely into the eyes of his brothers and sisters on the path of life. Mercy: the bridge that connects God and man, opening our hearts to the hope of being loved forever despite our sinfulness. At times we are called to gaze even more attentively on mercy so that we may become a more effective sign of the Father's action in our lives. For this reason I have proclaimed an Extraordinary Jubilee of Mercy as a special time for the Church, a time when the witness of believers might grow stronger and more effective."