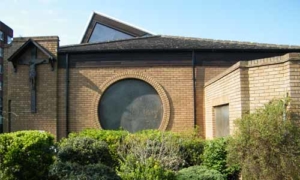 The Catholic Parish of St Mary & St Ethelburga with St Erconwald will be celebrating the Solemnity of St Ethelburga, Abbess and Patroness of Barking at 7.30pm on Wednesday 12 October at St Ethelburga's Church, Linton Road, Barking.
 Parish priest Canon William Young will celebrate the Mass. He says: "It will be High Mass in the Ordinary Form, in Latin and English, and in Old English, too. The event will be enhanced by the presence of the music group, Graduale.  Directed by Jonathan Schranz, they will sing a piece by Tomas Victoria, and also Gehyr-nu, a piece specially composed for the occasion by Stephen Bick, a Catholic composer, who is a member of Graduale. It looks to be a splendid occasion, and there will be refreshments afterwards in the hall. All welcome."
The guest preacher will be Rev. Fr. Paschal Canon Ryan.
St Ethelburga's Church is very near Barking Station, which is serviced by C2C, underground, and buses. Please note that there is no free parking in Barking town centre and the church cannot offer parking space for cars. There is a multi-storey car-park off London Road which is not expensive and is only a few minutes walk from the church. ASDA supermarket, which is also close by, permits shoppers who make purchases to park free for three hours.
Tel: 020 8594 2849 E-mail: [email protected]