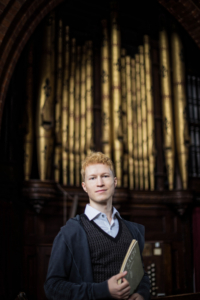 Brentwood Cathedral Music is delighted to welcome Vladimir Antonov-Charsky from Lithuania who is currently studying at the Royal College of Music in London.  Vladimir will be giving a lunchtime organ recital in Brentwood Cathedral next Wednesday, 21 September, at 1pm to 1.45pm.
Lithuanian organist Vladimir Antonov-Charsky has won the prestigious Juozas Naujalis Organists Competition and was awarded a commendation by the Mayor of Vilnius, Remigijus Šimašius.
He completed his undergraduate degree in Lithuania and also studied at the Royal Conservatoire in the Hague through the Erasmus exchange programme.
Vladimir is currently studying at the Royal College of Music, London for a Master of Music, where his studies are supported by the Richard Newton Scarth Award and scholarships from the Royal College of Organists, including the R. J. Pitcher Scholarship and Gwendoline Minshull-Jones Scholarship.
Vladimir has held organ scholarships at the All Saints' Church, Fulham and St. George's Church, Beckenham. He has also collaborated with the English composer James Young on his band's two latest album releases, and presented online recitals on YouTube during the coronavirus lockdowns.
His recital programme is as follows:-
Dietrich BUXTEHUDE (1637 -1707)
Toccata in F major Bux WV 157
Ich rufe zu Dir, Herr Jesu Christ Bux WV 196
Nicolaus BRUHNS (1665 – 1697)
Praeludium in E minor (The Great)
Bjarne SLøGEDAL (1927 – 2014)
Variations on the Norwegian folk tune, O how Glory shall it be for the Children of God
Leo LOBREV (b. 1991)
Aurora Borealis
All welcome.  Retiring collection. Refreshments will be provided afterwards in the Song School.