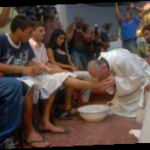 A national conference for people working in health and social care is taking place from 23 to 25 June 2016 in St Mary's University, Twickenham. The Called to Care Conference is being organised by the Health and Social Care Advisory Group of the Bishops' Conference of which Bishop Tom Williams is the Chair. It will focus on the challenges and opportunities for Christians working in health and social care.
KEYNOTE SPEAKERS INCLUDE
HE Cardinal Vincent Nichols, Archbishop of Westminster
Duncan Selbie, Chief Executive, Public Health, England
Paul Farmer, Chief Executive, MIND
Dr Anna Rowlands, Senior Lecturer, Durham University
Mary McAleese a former President of Ireland, is the after dinner speaker.
The conference organisers invite people of faith in this work – doctors, social workers, chaplains, nurses, HCAs, social care managers, and allied professionals in health and social care practice.
OBJECTIVES WHICH FRAME THIS CONFERENCE
To support and deepen the vocation and spirituality of those being called to care.
To explore ways in which faith in practice can enhance the quality of care and compassion in health and social care organisations.
To enable participants to apply the insights of Catholic Social Teaching to current issues in Health and Social Care policy and practice.
With best practice workshops covering, Vocation – what it means to be called, Chaplaincy practice, guidance and research, Mental Health, Palliative Care, Pilgrim Carers, International Health and Care in development and war torn places, Spirituality in Care, Retaining your values when under stress, Responding to resource pressures from a Christian perspective.
CONFERENCE FEE £250
inclusive of accommodation, meals and conference materials and presentations
Sessional fee £40:Thursday 23rd June, including supper or Saturday 25th June including lunch
Day rate for Friday 24th June £80 (excluding evening dinner)
HOW TO BOOK
Contact Nicholas Johnson or Cath Morgan
Email: [email protected] [email protected]
Tel: 07930 854972 07947 687869
Catholic Bishops' Conference 39 Eccleston Square, London SW1V 1BX
facebook.com/CBCHSCAG twitter.com/CareHealthRC
Web: cbcew.org.uk/healthcare