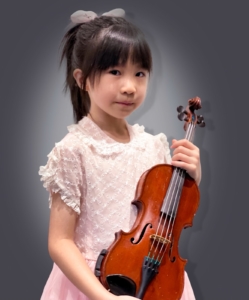 Brentwood Cathedral Music warmly invites you to a New Year's Concert in Brentwood Cathedral on Sunday 15 January at 4pm to 5.30pm.  Once again we are delighted to welcome eight-year-old violinist Hermione Duan who will be accompanied by members of the Royal Philharmonic Orchestra.  Many of you will remember Hermione's wonderful performance for us in August of last year and we are very excited to have her and the RPO back here again.
The Programme will consist of the following pieces:-
Handel          La Réjouissance
Bach               Violin Concerto in A minor
Soloist – Hermione Duan
Mascagni     Intermezzo from Cavellaria Rusticana
Vivaldi           Double Violin Concerto in A minor
Soloists – Hermione Duan & Jennifer Christie
Vivaldi           The Four Seasons
Spring            Hermione Duan
Summer        Joana Valentinaviciute
Autumn         Jennifer Christie
Winter           Tamás András
Admission is FREE.
If you are interested in attending, do email us at [email protected]  to let us know! Limited parking is available – alternatively there is a large multi storey around the corner at Sainsburys.