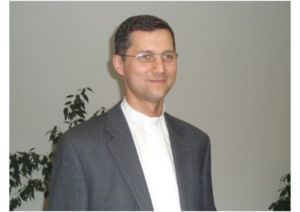 This year marks 75 years since the publication of Pope Pius XII's encyclical letter Divino Afflante Spiritu, which gave new impetus to biblical studies in the Catholic Church. What did the encyclical teach, and how far have we travelled since then in acceptance and love of the Holy Scriptures?
Fr Levente Balazs Martos, Prefect of Studies at Gyor Theological College in Hungary and a member of the Pontifical Biblical Commission, will address these questions at the eighth Gidea Park Study Day on Saturday 26 May.
The second part of the study day will be a Panel Session with Fr Levente, Fr Adrian Graffy, parish priest of Gidea Park, and member of the Pontifical Biblical Commission, and Fleur Dorrell, Scripture Coordinator for the Department for Evangelisation and Catechesis at the Bishops' Conference of England and Wales. The session will be moderated by Margaret Holden, formerly Religious Studies teacher at Sacred Heart of Mary School in Upminster.
The study day will run from 11am to 3pm at Christ the Eternal High Priest Church, 410 Brentwood Road, Gidea Park RM2 6DH
All are welcome. Admission is free but booking essential by email [email protected]
Coffee will be available from 10.30am. Please bring your own lunch. Local eateries available.  Easy access by road from the M25 and Gallows Corner. Ample free parking available at the church.  Three minutes' walk from Gidea Park station. Please check the Abellio Greater Anglia website for possible service alterations.