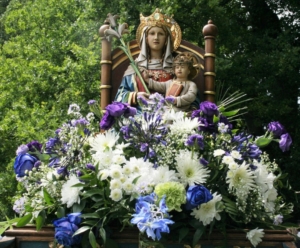 The Rededication of England as the Dowry of Mary takes place throughout the country on Sunday 29 March. To prepare for this renewal of the relationship of England with the Mother of God, the parish of St John Vianney, Clayhall, is to host two lectures:
Thursday 5 March at 7.30pm: 'Walsingham, Mary and Ecumenism'
Speaker Fr Tim Bugby, Priest of the Ordinariate of Our Lady of Walsingham, Clerk of the Holy House of OLW.
Thursday 26 March at 7.30pm: 'England Her Dowry Once More'
Speaker Fr Neil Brett, parish priest, St. Anne Line, South Woodford.
Both lectures take place at St John Vianney, 1 Stoneleigh Road, Ilford, IG5 0JB. The lectures will last about 40 minutes, followed by time for questions and refreshments.
The parish is also holding a 40 hour Eucharistic Devotion from 7am on Saturday 14 March (Solemn Mass of Exposition) until 11pm on Sunday 15 March (Procession of the Blessed Sacrament and Benediction).
All are welcome to spend an hour with the parish praying before the Blessed Sacrament during those times.