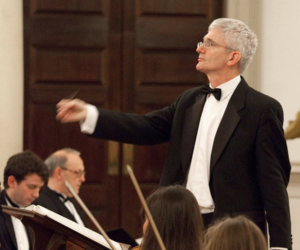 The chance to sing Handel's Messiah with professional soloists and orchestra in a cathedral is one that many amateur singers covet. On 15 December at Brentwood Cathedral they have an opportunity to realise that dream.
A specially formed choir will rehearse in the afternoon and perform the complete Messiah to an audience in the evening, accompanied by a first-class orchestra and a high quality line-up of soloists.
It will be no ordinary performance as it will be conducted by Andrew Wright (above),  the Cathedral's Director of Music, to celebrate serving 40 years as a Cathedral musician, first at Westminster and then since 1982 at Brentwood.
Booking is now open and you can download the booking form from the Cathedral website www.brentwood-cathedral.org or book by contacting David Worsfold on 01277 221445 or [email protected].
Rehearsal from 2pm to 5pm. Performance starts at 7pm.