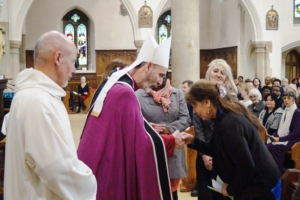 Foundation Governors have a key role to play in helping the Diocese maintain and develop the Catholic character of our schools and ensuring that the school fulfils its proper, educational role in the life of the community.
This is one of two events being organised in order that we can recognise the contribution made by Foundation Governors in support of Catholic education across the Diocese of Brentwood. Foundation Governors will be commissioned directly by Bishop Alan, who they represent on governing bodies of Catholic schools.
This is the first time that this has formally happened and Foundation Governors can expect be blessed, prayed for and practical avenues for support identified in order to help them in this important and sometimes challenging service of Catholic education.
Fr Stephen Myers, Episcopal Vicar, Rob Simpson Diocesan Director of Education,
Debbi Botham, Governance Development Officer and other members of the BDES team will also be in attendance.
These unique events will attempt to bring together all Foundation Governors currently in post, so please do your utmost to attend. We look forward to welcoming you.
To book your place please complete this form