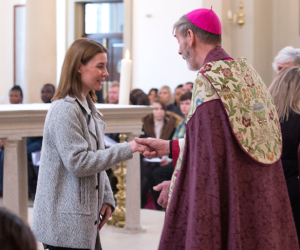 Foundation Governors have a key role to play in helping the Diocese maintain and develop the Catholic character of our schools and ensuring that the school fulfils its proper, educational role in the life of the community.
At this commissioning event  we will recognise the contribution made by Governors in support of Catholic education across the Diocese of Brentwood.
The event is for foundation governors and MAT Trustees who were unable to attend a commissioning event in 2020. Other governors serving in our Catholic schools who would like to attend are also very welcome to attend this unique event.
Governors will be commissioned directly by Bishop Alan, who they represent on governing bodies of Catholic schools. They will also receive a certificate commemorating their commissioning.
Please note that Bishop Alan wants to meet and commission all Foundation Governors who are currently in post. We look forward to welcoming you.