Walk with Christ in this Year of Mercy
Sunday 22nd May 2016 3pm
Don't miss this extraordinary event. Bring your family and friends and join us as we witness to the presence of Christ in the city of Chelmsford. Processing through the community with the Blessed Sacrament near the Feast of the Body and Blood of Christ is a venerable Church tradition. The procession is an outward demonstration of Catholic faith and belief in the real presence of the risen Christ.

The Chelmsford procession will start from Our Lady Immaculate Primary Academy in New London Road. It will include clergy, Catholic groups and organisations, lay people and their families. As is traditional, children in First Communion dress will lead the procession. The Holy Eucharist will be held in a processional monstrance carried by Fr Hugh Allan, parish priest of Our Lady Immaculate parish, and priests from the Brentwood Diocese. The monstrance itself is protected by a decorated canopy. The procession will be accompanied by a marching band that will lead us in hymns.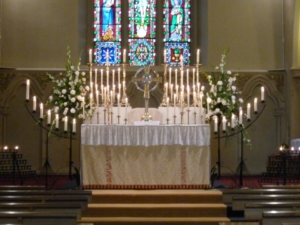 The procession will start at the school, go down New London Road, on to New Writtle Street, up Moulsham Street, turn right on to Southborough Road then right on to New London Road and finish with Benediction at Our Lady Immaculate Church.
There will be refreshments afterwards at Our Lady Immaculate Primary Academy, served by members of OLI and Holy Name's Catholic Women's League and OLI Friends Association