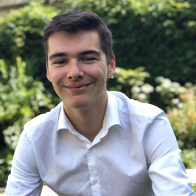 Brentwood Cathedral's first lunchtime organ recital of 2023 will take place on 18 January and be given by Ben Collyer from the Royal College of Music.
This will take place at the usual time of 1pm – 1.45pm on 18 January and is free to attend. Ben is presently Organist at St. John's, Hyde Park Crescent in London. As a soloist, Ben has performed in a number of venues, both in the UK and abroad. Some recent venues include L'Église Saint Vincent de Carcassonne and the Royal Opera House in Muscat, Oman.
In his academic year of 2021 to 2022 he was Organ Scholar at St. Paul's Cathedral where he was involved with several prestigious services including the Platinum Jubilee service for Her Majesty the Queen. In 2021, Ben was given the Richard Newton Scarth Award to study for a MA in Organ performance at the Royal College of Music, where he now works with David Graham and Andy Dewar.
Ben's programme will include:
Allegro Maestoso from Organ Sonata in G major   E. Elgar
Sonata I   P. Hindemith
Prelude et fugue sur le nom d'Alain  M. Duruflé
Refreshments will be available afterwards in the Song School. There will be a retiring collection.