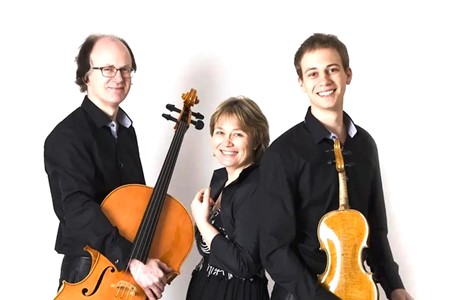 On Sunday 21 May at 3pm in Brentwood Cathedral, we are delighted to welcome the Wiener Mozart Trio from Vienna.
Since its foundation in 1991, the Trio has performed in renowned concert halls all over Europe and Asia. Irina, Daniel and Diethard Auner are not bound by any contracts with orchestras which means their artistic independence enables them to achieve a musically free and unconventional interpretation of utmost intensity.  The musicians consider it as their vocation to convey music as a spontaneous and original experience.  As a result, they have made a wide audience familiar with all epochs and styles and all the possibilities of musical expression, ranging from the great Viennese classics – with Mozart as one of the earliest composers of the musical genre of the piano trio – to the present day. Their programme will consist of the following pieces:-
Wolfgang Amadeus Mozart:
Piano Trio No. 2 in G major, K496, comp. 1786                                                              Piano Trio No. 6 in C major, K548, comp. 1788
Felix Mendelssohn:
Piano Trio No. 2 in C minor, op. 66
There will be a short interval and the concert will finish at 5pm.
Tickets are £10 for adults; children and under 18s free.
These need to be booked in advance by emailing [email protected] or  [email protected] and will then be available for payment and collection on the day, from 2pm onwards.  Any remaining tickets will also be available on the day.