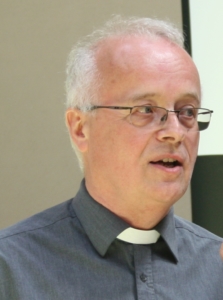 How did the gospels come to be written? Why are there four, and not just one? What does the Church teach about the gospel? And what is so special about the Gospel of Mark, the gospel being read on Sundays this year? These two evening sessions will provide an opportunity to examine these questions.
Fr Adrian Graffy, parish priest of Gidea Park and organiser of these popular study sessions, will lead an exploration of Mark's gospel on 20 and 27 June at 7 pm. Fr Adrian taught Sacred Scripture for many years at St John's Seminary, Wonersh and is a member of the Pontifical Biblical Commission.
These 'Gidea Park Faith Evenings' will take place in the hall at Gidea Park Catholic Church (410 Brentwood Road, Gidea Park, RM2 6DH). Please book by email to [email protected] Refreshments provided. Admission free. Bus and train links to Gidea Park station, which is three minutes' walk from the church. Easy access from M25 and Gallows Corner. Ample free parking available.