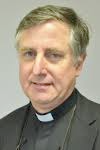 Has it ever struck  you that before and after the 2016 referendum, very little consideration was given to the founding principles and fundamental inspiration which lay behind efforts to bring Europe together? As the United Kingdom considers a future outside the European Union, Fr Ashley Beck will examine the contribution of Catholic thought to the origins and development of the European Project, in a study day on Saturday 6 October.
Fr Ashley Beck is a priest of the Archdiocese of Southwark, based in the parish of Beckenham in South East London. He is also Dean of Studies of the Diaconate formation programme which covers most of southern England (including the Brentwood diocese) and Senior Lecturer in Pastoral Ministry at St Mary's University,Twickenham. He has degrees from Oxford University in Classics and Theology, and a PhD by publication from Surrey University in the methodology of Catholic Social Teaching. He is currently setting up at St Mary's the first Master's programme in Catholic Social Teaching in the British Isles. In his publications about social teaching he has written extensively about Europe, especially during the 2016 referendum campaign. In September 2018 he is due to become President of the Catholic Theological Association.
This Gidea Park study day – the ninth to take place at Christ the Eternal High Priest Church  – will start at 11am on 6 October and finish at 3pm.
All are welcome. Admission is free but booking essential by email [email protected]
Coffee will be available from 10.30 a.m. Please bring your own lunch. Local eateries available. Easy access by road from the M25 and Gallows Corner. Ample free parking available at the church. Three minutes' walk from Gidea Park station.
Please check the Abellio Greater Anglia website for possible service alterations.
410 Brentwood Road Gidea Park RM2 6DH