Aim : To provide Diocesan Secondary School Head of R.E. with updates, training and support along with practical ideas.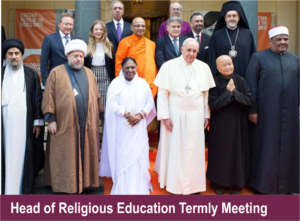 Topics : RECD3 KS3 & KS5 Core, CSI and the Prayer and Liturgy consultation
Targeted Audience : All Diocesan Secondary School Heads of R.E.
Speaker : Dr. Paul McHugh, co-writer of RECD3 KS3
Cost : Please note there is a cost of £15.00 for attendance. Lunch is included.
Registration : Please use this link to register your attendance.
Outline of timings (approx.) :
9:15 am                           Mass in Brentwood Cathedral
10:00 am                        CPD
1:00 pm                          Lunch
1:30 pm                          KS5 Core R.E. session for schools with Sixth Forms
Updates on :
RECD3 KS3
Consideration of proposed Hodder Spirit and Life KS3 textbook and OUP KS3 Source to Summit textbook series
New Catholic Schools Inspection Framework
Prayer and Liturgy Directory consultation
RECD3 KS5 Core RE consultation