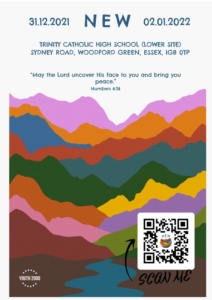 Why not try something NEW this New Year? Join Youth 2000 at Trinity Catholic High School in Woodford Green.
NEW will be a weekend filled with fun, friendship, inspiring talks and, of course, lots of praise as we welcome in 2022. Key speakers will be John Pridmore, whose testimony and witness has been a wonderful help to many people, and Gemma Wildsmith, speaking about Healing in Christ.
NEW is open to anyone aged between 16-35 years. If you've never been to Youth 2000 before, we have our Mission Team on hand ready to welcome and celebrate New Year with you.
The retreat will run from Friday 31 December – Sunday 2 January 2022.
Use this link to book your space today:
https://youth2000.churchsuite.co.uk/events/vxjhconq