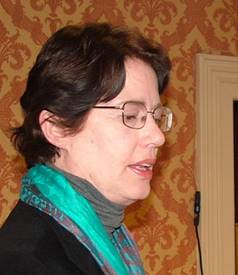 We are hugely excited to welcome Sherry Weddell from the Catherine of Siena Institute to London for a special one-day event where she will explore how Catholics can fulfil their mission to bring all to Christ. Sherry is a best-selling author, lecturer and evangelist who is much in demand across the world to talk on equipping parishes and dioceses to become centres of evangelisation and formation, discerning charisms and vocations and on-going apostolic support for the laity.
Sherry's book Forming Intentional Disciples has sold over 150,000 copies. She has since released two further books: Becoming a parish of Intentional Disciples and Fruitful Discipleship: Living the Mission of Jesus in the Church and in the World.
This one-day event will be held at Westminster Cathedral Hall, SW1P 1QW on Tue 18 Jun 2019 from 1:00 pm – 9:00 pm. It is being organised jointly by the dioceses of Westminster, Brentwood and Southwark and consists of three sessions. Tickets can be purchased for all three, two sessions or just one.  Each session costs £10.  To purchase tickets please use this link: https://www.tickettailor.com/events/centreforcatholicformation/251195
Session 1 (1300-1500) – Catholic Evangelization in Parishes Today: Sherry Weddell's Latest Research from Parishes
A seminar session on some of Sherry Weddell's cutting-edge research and its application to Parish evangelisation, particularly for clergy and lay leaders.
Session 2 (1500-1700) – Implementing the Initial Steps in becoming a Missionary Parish
An afternoon workshop for both clergy and their catechetical and evangelisation teams.
Session 3 Evening (1900-2100) – Accompanying people through the thresholds of faith
Sherry's main evening lecture will be on Fruitful Discipleship, itself based on her Ananias Training. Following a brief familiarisation with Sherry's 'thresholds of faith' the audience will hear how parishioners with no previous training can be formed in 'the art of spiritual accompaniment'. This talk will explore how Catholics can recognise the stages of another's spiritual journey through compassionate listening and talk about their own relationship with God. Attendees will receive advice on how to share Jesus' own story in response to the spiritual hunger of another and help accompany them through the thresholds of faith.
This day will be particularly helpful for:
Parish priests and lay leaders who want to realise a missionary culture within their parish, RCIA team members, Called & Gifted interviewers and small group leaders and parishioners who desire the confidence and skills to share their faith with family, friends and co-workers.
Tickets are limited and being shared between the three hosting dioceses so book early to avoid disappointment.
To purchase tickets please use this link: https://www.tickettailor.com/events/centreforcatholicformation/251195