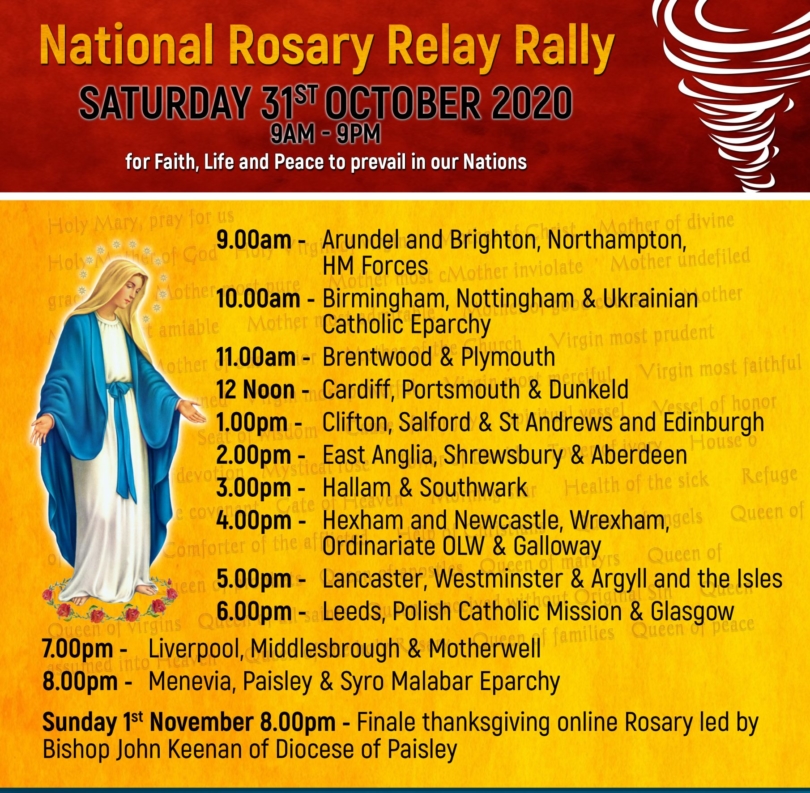 As part of a Rosary Whirlwind Mission organised by the National Shrine at Walsingham for the month of October, there will be a National Rosary Relay on Saturday October 31 October – Eve of All Saints – from 9am to 9pm, led by many bishops around the country.  The designated hour for our Diocese is from 11 am to noon.  Bishop Alan is currently away but has said he would join the prayers from a mountain. In his absence, Fr Mark Swires at Brightlingsea is the diocesan contact.
He says: "Please join the rosary live-streamed from St Sabina in Brightlingsea on Saturday 31 October at 11am."
The live streaming link is: https://youtu.be/L31oFdPrSwA
The Intentions  for the National Rosary Rally are for Faith, Life and Peace to prevail in our Nations.
1.      Praying for the spiritual well-being of the British Isles and for its preservation from decadence, adversity and war, in these days when our nations seem so beset by violence and lawlessness.
2.      Praying also for our Church and Gospel vision, which are under increasing challenge and attack: our faith undermined by an aggressively secular culture; the sanctity of life assailed; and peace fracturing everywhere.
3.      Praying for our Isles, for the conversion of our peoples and for their protection from evil, danger and sickness.
4.      Praying for the deliverance of our Isles from the covid-19 global pandemic.
The culmination of the Rosary Mission on Sunday 1 November – Feast of All Saints – will see Bishop John Keenan, Bishop of Paisley, will lead a thanksgiving Rosary at 8 pm from St. Mirin's Cathedral, Paisley.
Participants are invited to join with him that evening from their homes.
For more information go to www.walsingham.org.uk