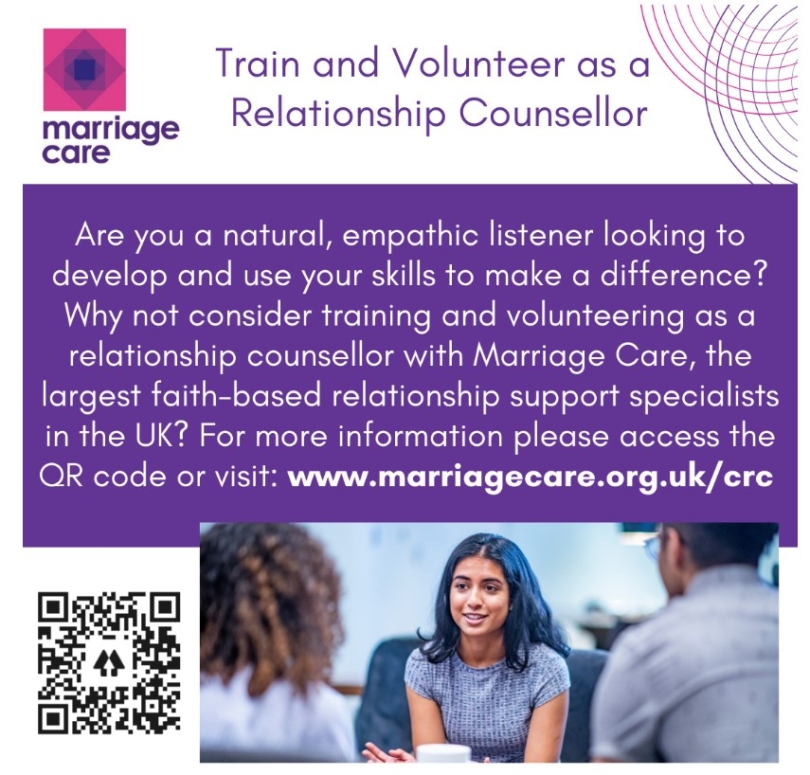 Catholic Marriage Care, the largest faith-based relationship support specialist in the UK, is looking for empathetic listeners who would like to train and volunteer as relationship counsellors.
The organisation has just launched a Certificate in Relationship Counselling (CRC) recruitment route which will enable those who do not hold any previous counselling qualifications to undertake training and join its counsellor teams. The CRC course, which has received funding from the Cardinal's Lenten Appeal Fund, will train and equip selected volunteers to safely and effectively counsel couples via a local centre.
"They will then be able to join one of our local centres and support our mission to provide donation-based counselling services to those in need – volunteering just two sessions a week and helping make a huge difference to couples and families," says volunteer recruitment administrator Rebecca Thorat.
The organisation is hosting an online CRC Open Event for anyone who would like to know more about this role, the training and Marriage Care. The event will be held on Monday 25 October (1-2pm) via Zoom. Anyone interested in joining the open event can contact Rachael Obrien at [email protected] .
For more information please visit: www.marriagecare.org.uk/crc