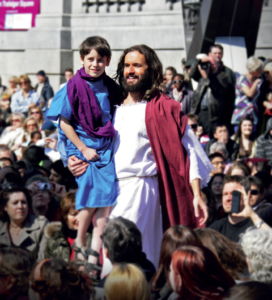 On Good Friday, 30 March 2018, there will be two live performances of The Passion of Jesus in Trafalgar Square.
The performances are free and will take place at 12 noon and 3.15pm. The charity responsible, Wintershall, has been staging the production since 2010 and has drawn thousands of visitors. It says that the performances will contain a realistic interpretation of the cruxifixion which may be something parents should consider. The event is being organised in partnership with The Bible Society and is supported by the Mayor of London.
For those unable to get to the Trafalgar Square performances, there will be live streaming of the event. On Easter Saturday there will be two further performances in Guildford town centre.
Later in the summer, Wintershall will be putting on another epic open-air production: The Life of Christ, the greatest story ever told. The event will take place at its Surrey estate between 19-23 June 2018, 10am-3.30pm.  The beautiful grounds provide an ideal location for the now famous plays. You can book now at www.wintershall-estate.com, or by calling 01793 418299.