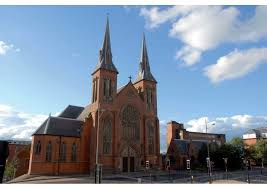 Midnight Mass will be broadcast on BBC One tonight from St Chad's Metropolitan Cathedral, Birmingham – 11.45 start.  
The Dean of St Chad's, Monsignor Timothy Menezes, will welcome watchers with a message of hope, and the prayers will be led by young people from the congregation. The celebrant and preacher will be the Archbishop of Birmingham, the Most Revd Bernard Longley. Music will include the well-loved carols 'O Come, All Ye Faithful', 'Silent Night' and 'Hark! The Herald Angels Sing.' Music Director David Saint will lead the cathedral choir in compositions spanning 500 years, from the Christmas motet Tui sunt caeli by 16th composer Orlando Lassus, to Richard Causton's haunting 21st century Cradle Song.
This is the second time in recent years the BBC has filmed Midnight Mass at St Chad's, having last broadcast it in 2016.
Download a Mass participation booklet here: BBC televised Midnight Mass Booklet 2021 – Website