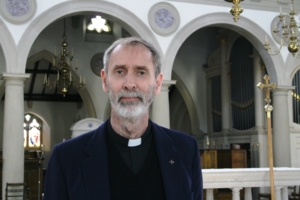 Bishop Alan has forwarded official advice from the police to all parishes in the diocese, following the recent killing of Fr Jacques Hamel in Normandy. "The key thing is to be 'alert but not alarmed' which I think is the general message for everybody these days.  All of us need to review security and be vigilant but always prayerful," he said.
Protective security advice issued to Christian places of worship:
While there is no specific intelligence relating to attacks against the Christians in the UK, police are urging the community to be alert but not alarmed, report concerns to the police and review their security as a precaution.
National Operational Police Lead for Protect and Prepare Deputy Assistant Commissioner Neil Basu said: "There is no specific intelligence relating to attacks against the Christian community in the UK. However, as we have seen, Daesh and other terrorist groups have targeted Christian as well as Jewish and other faith groups in the West and beyond.
"Following recent events in France, we are reiterating our protective security advice to Christian places of worship and have circulated specific advice today. We are also taking this opportunity to remind them to review their security arrangements as a precaution.
"This is part of our ongoing work with faith organisations, as well as other sectors, to help ensure the safety and security of their staff, visitors and members.
"While the threat from terrorism remains unchanged at severe we urge the public to be vigilant. Be alert and not alarmed and report any suspicious activity via the anti-Terrorist Hotline on 0800 789321. In an emergency always dial 999.
"The UK police service is working tirelessly with our partners to confront the threat and protect all our communities.
"All of our safety and security advice is available at the National Counter Terrorism Security Office website- www.gov.uk/nactso."
Meanwhile Essex Police have given parishes and others the link below where details of the 10 Community Policing Teams (CPTs) operating across Essex are available.
http://www.essex.police.uk/my_neighbourhood.aspx
The Metropolitan Police have Faith Officers for each of the London Boroughs who will contact each parish directly.  Their names and e-mail addresses are as follows:
Tracy Gunn for Newham
Steven MacDonald for Waltham Forest
Ian Lee for Barking & Dagenham
Kaser Aleem for Havering
Shahnuaz Meah for Redbridge
However, if you have any pressing concerns or notice any suspicious activity please call the Police on 101 or 999.
Home Office Grants – Places of Worship: security funding scheme
The Home Office has also announced bidding for grants under the Places of worship: security funding scheme, to provide protective security measures for places of worship in England and Wales. Bids for funding can be made for the next 8 weeks until 5pm on 20 September. A second round of bids will open in spring 2017.
Contact details: [email protected].