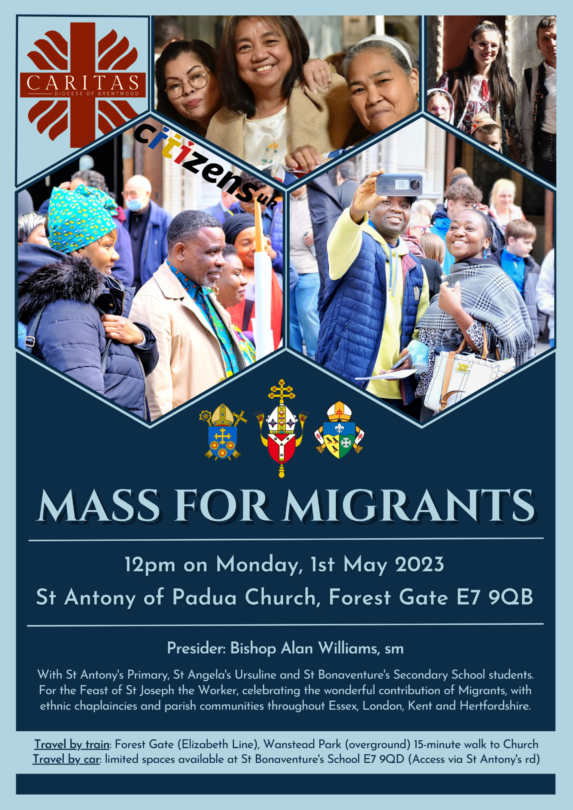 The Dioceses and Ethnic Chaplaincies of Brentwood, Southwark and Westminster are celebrating the annual Mass for Migrants on Monday, 1 May 2023, the Feast of St Joseph the Worker, at 12pm. The Mass will be hosted by the Diocese of Brentwood at St Antony of Padua Church, Forest Gate E7 9QB with Bishop Alan Williams, sm as celebrant and Fr Dominic Howarth preaching.
Parishioners from across all three dioceses are warmly invited and there will be a banner procession by the ethnic chaplaincies, organised by Citizens UK ahead of the Mass. Combined choirs from St Anthony's Primary School, St Angela's Ursuline School and St Bonaventure's Secondary School will sing during the service and there will be a reflection on the Living Wage campaign by TELCO/Citizens UK.
MP Stephen Timms is to attend the Mass along with charity delegates from Aid to the Church in Need, Calais Light, Justice & Peace and CSAN. The heads of other faith denominations have also been invited.
The Migrants Mass has been celebrated since 2006, when it was initiated by Cardinal Cormac Murphy-O'Connor, then Archbishop of Westminster, at the suggestion of London Citizens. The Cardinal called for a more just treatment of migrant workers at that first Mass, an important act of witness. That call was rooted in Catholic Social teaching, inspired by London Citizens' 'Strangers into Citizens' initiative.  Each year since then the event has reminded London of the invaluable contributions of so many migrants to the city's society and economy.  It offers a profound witness to the church's insistence that the dignity of the human person is God given and never withdrawn.  It also reminds us of the very deep resonance with refugee and asylum concerns.  Today, at a time when the plight of refugees and migrants is becoming ever more desperate, the Cardinal's words seem particularly prophetic.
The Mass is held annually, hosted in turn by one of the three Dioceses of Brentwood, Southwark and Westminster for the feast of St Joseph the Worker as a celebration of the valuable contributions made by so many migrants to the life and economy of London and the surrounding counties. The Mass is also a sign of the Catholic community's solidarity with refugees and asylum seekers.
It was first held at Forest Gate in 2017 before both the pandemic and the conflict in Ukraine. In 2022 it was again held in person in Westminster Cathedral. There were testimonies about issues that affect refugees and migrants, including one from Fr Andriy Tsyaputa from the Ukrainian community.