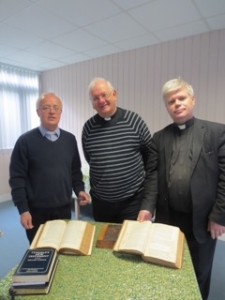 Three volumes of the Douai-Rheims Bible were on display at a Study Day on 'The Bible in English' recently hosted by Fr Adrian Graffy (far left) at Gidea Park. The speaker was Deacon John Morrill (centre), Emeritus Professor of Modern History in the University of Cambridge, and Director of Ongoing Formation in the Diocese of East Anglia. The Bibles were brought by Fr Stewart Foster, Diocesan Archivist (right).
The English College at Douai in Northern France, the lineal predecessor of Allen Hall Seminary, Chelsea, was founded in 1568. Scholars at Rheims (where the College was temporarily evacuated from Douai owing to the danger of war) translated the Latin Vulgate New Testament into English, and this was published in 1582. The Old Testament was similarly translated at Douai in two volumes published in 1609-1610. The Bibles belong to the Essex Recusant Society (Brentwood Diocesan Historical Society) and are kept in the Society's Library at Cathedral House, Brentwood: the Old Testament volumes are first editions and the New Testament dates to 1633.
Participants at the study day were also able to examine a facsimile copy of the Codex Sinaiticus, the priceless Greek Bible dating to the fourth century, and now housed in the British Library, which was donated to Fr Adrian by Fr James Hawes.