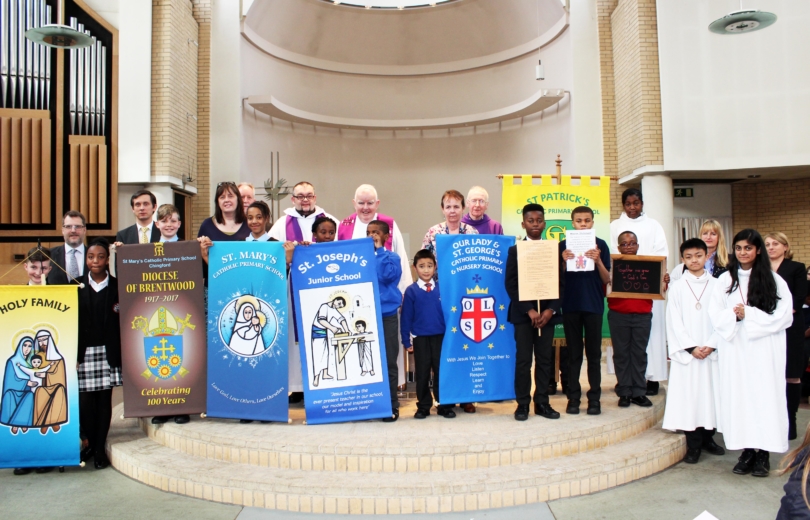 The Aquinas Teaching & Learning Trust, which is made up of a number of primary and secondary schools based in the Waltham Forest deanery, celebrated its first annual Mass at Our Lady & St George Church, Walthamstow recently.
On 8 March, over 400 students and accompanying staff from schools in the Trust came together for the service. Fr Maurice Gordon (OLSG), Fr Kevin Conway (St Patrick's, Walthamstow) and Fr Jim Kennedy (St Joseph's, Leyton) concelebrated the Mass, which began with a colourful procession of school banners and mission statements.
Schools in the Trust are: Our Lady & St George; St Patrick's; St Mary's; St Joseph's Infant and St Joseph's Junior Primary Schools; Holy Family School & Sixth Form; St John's School; and Trinity High School.
The primary schools were represented by pupils from years 2 and 6. The representatives from secondary schools included St John's choir, a group of year 8 students from Trinity and prefects from year 7, 8 and 6th Form from Holy Family.
The readings, bidding prayers and offertory were undertaken by the schools, with special thanks to St John's School Choir who signed the entrance hymn and pupils from Our Lady & St George Primary School who sang and signed the post-communion hymn. Chaplaincy team member Denise Grierson said: "It was lovely to hear wonderful singing from the students, filling the church with sound. It was a joyous occasion, much appreciated by students and staff alike."
During Mass, the congregation remembered Yvonne Inije, head of RE at St John's, who died recently.
Fr Maurice Gordon said it was wonderful looking out at all the schools, united in their belief and education.
Dr Andy Stone, headteacher of Holy Family School, concluded: "What was really evident to me was a powerful sense of unity among all our schools and a real sense of community and togetherness. You may not know but, while about one in 10 of pupils in the Aquinas Trust schools are here today, altogether you represent around 4,500 children and young people; and there are also more than 500 staff in total.
We really benefit from working together and myself and all the other headteachers and staff are really proud and pleased to be working together for the benefit of all our Catholic schools in the Aquinas Trust."