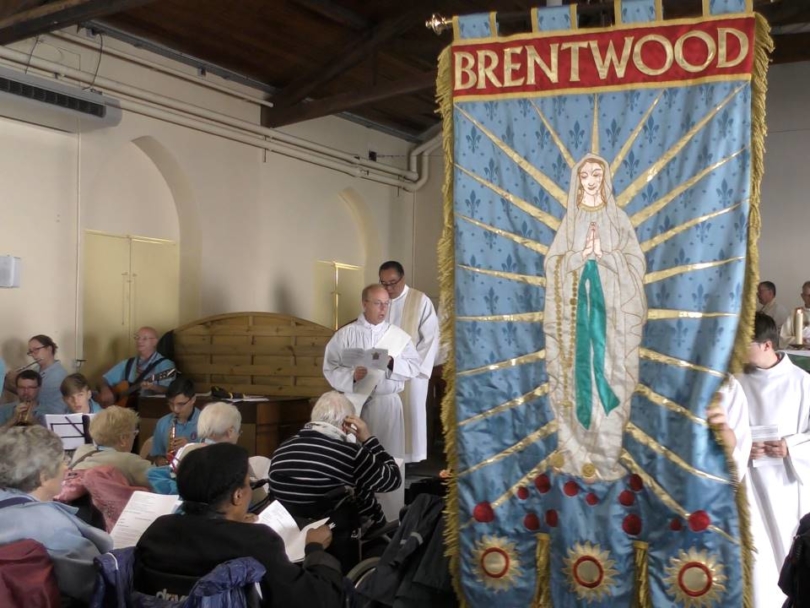 More than 200 young people from Brentwood Catholic Youth Service are currently in Lourdes for the Diocesan Pilgrimage, led by Bishop Alan Williams sm. They travelled on a 17 hour journey by coach over the weekend, and will assist disabled and ill pilgrims during their time there this week. They want to share their Lourdes experience with those at home and so are inviting others to take part in a virtual pilgrimage by uploading snippets of their time on pilgrimage in the form of diary entries via Facebook, YouTube and all other forms of social media.
The virtual pilgrimage begins with a welcome video from Fr Dominic Howarth, the Episcopal Vicar for Youth and Vocations, who along with others, is leading the youth dimension of the pilgrimage. In the video Fr Dominic explains a little about the vision of the virtual pilgrimage and what BCYS have been doing on their first day.
The second video will be a recording of the homily of the opening Mass for the BCYS. There will be more updates and videos throughout the week on the BCYS website, twitter and Facebook page. Virtual pilgrims are invited to send any prayer intentions or messages via the Facebook page.
See links below:
https://twitter.com/BrentwoodCYS