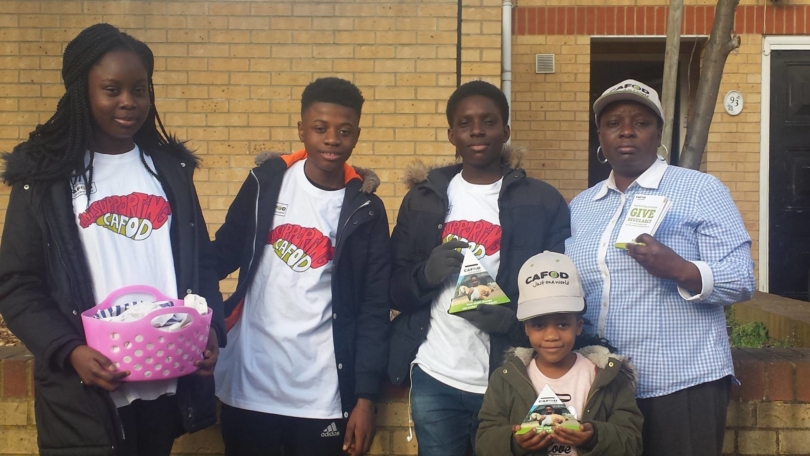 A 14-year-old local boy has received an award for his efforts to help vulnerable people in need. Rosen Bello, from Beckton, (seen above with his cousins) was given the Brentwood Diocese Schools Citizenship Award for his continuing fundraising activities for the aid agency CAFOD.
Rosen's fundraising efforts began when he was 12.  He was keen to join CAFOD's Young Leadership Scheme but, as the scheme is for pupils aged 16 and over, he was too young. Unperturbed, Rosen took matters into his own hands.  With the help of his mum, Nicole, he organised a community 'Fun Day' in Dagenham where there was a BBQ, community games and a sweet stall.  Inspired by his first foray into fundraising, Rosen went on to organise another Fun Day in Plaistow last September and in March Rosen, his cousin and younger sister sold cookies for CAFOD's Lent campaign.   
His enthusiasm for fundraising and supporting those in need did not go unnoticed by those around him.  Having been recognised for his selfless nature with the Jack Petchey Award last year, which recognises achievement in young people, he was then nominated for a Diocesan Citizenship Award.  Rosen, who said he was surprised and proud to receive the award, was presented with it during a mass at Brentwood Cathedral led by Bishop Alan. 
Rosen said: "We should support CAFOD because we're privileged being born in this country and should do something to help others.  We were born in a country with lots of resources so we should do what we can for people in countries which don't have the things we do."
Nicole, Rosen's mum, said: "I like to support him with his ideas. When he tells me his plans, I tell him 'I'm behind you'.  I want to support his passion."
The money raised by Rosen will help those living in extreme poverty to reach their full potential, regardless of religion or culture, by equipping them with the skills and opportunities to live with dignity, support their families and give something back to their communities.
Rosen's desire to stand in solidarity with those in need shows no sign of flagging; he's organising another Community Fun Day in Plaistow – this time over two days – on the 8th and 9th July.  
Chris Driscoll, CAFOD representative in Beckton, said: "It's inspiring to see young people like Rosen taking the initiative and doing all they can to raise money for those in need.  People often bemoan the apathy of the youth but Rosen completely contradicts this notion.  His drive and enthusiasm is fantastic to see.  Thanks for all you do, Rosen!"