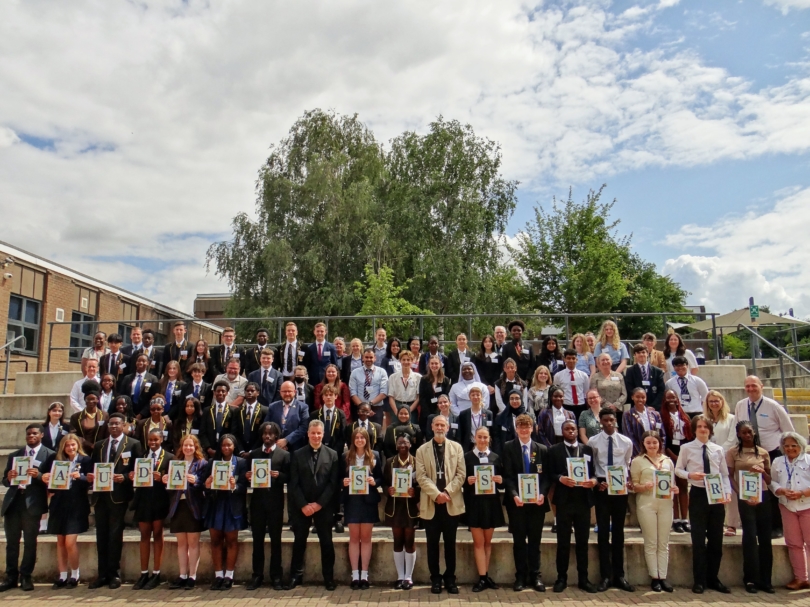 The inaugural Diocese of Brentwood student leadership conference took place at De La Salle School on 12 July 2023 – and was described by the students attending as 'inspirational'.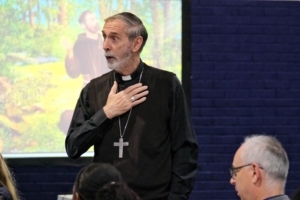 Bishop Alan Williams sm opened the conference by addressing a group of 60 student leaders from 16 diocesan schools on the subject of leadership. The students were thoroughly engaged throughout, with some avidly making notes. Siân Thomas-Cullinan, Director of Caritas Brentwood, who was involved in the organisation and running of the day, said: "Their questions afterwards proved to be very insightful as they ranged from enquiries about Bishop Alan's role as a bishop, across a broad spectrum of leadership issues and thinking."
Subse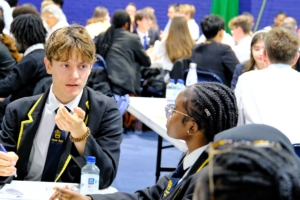 quently, Bishop Alan commissioned the young people as leaders in their schools.
Siân then led a series of sessions based on the Papal document Laudato Sí, with the support of members from the Brentwood Catholic Youth Service. The students focused on the practical responsibility of care for our common home, including what could be done in terms of leaving a legacy to future students, by using the 'Let Us Dream' task from Journey to 2030. 
She said: "Their ideas and feedback demonstrated thought, creativity and vision proving that they have insight into the problems and a range of solutions that were both practical and feasible. It was marvellous to see the engagement of all the young people and their support for each other while presenting."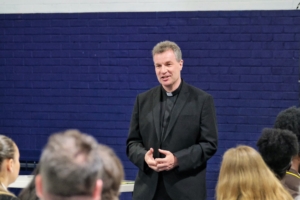 De La Salle School, Basildon provided an exceptional level of hospitality and welcome, with their student leaders greeting and accompanying the visitors. Breaks and lunch provided an opportunity for the students to talk to one another, encouraged by Fr Dominic Howarth, who set a series of challenges to network and engage with other schools.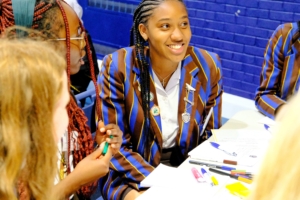 The students then had the opportunity to hear about opportunities from BCYS and the latest CAFOD campaigns and opportunities to write to their local MPs – giving them practical ways of making a difference locally, nationally and globally.
Siân was delighted with the outcomes. She concluded: "The day could be summed up as necessary, joyful, hopeful and motivating."