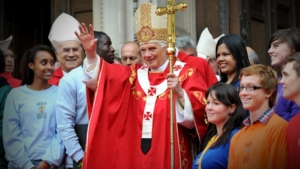 Bishop Alan Williams sm has expressed his sorrow on hearing of the death of Pope Emeritus Benedict.
He writes: "Pope Benedict was a very wise and gifted theologian and preacher. Whenever he wrote or preached, he went to the heart of things with immense wisdom and holiness. He was also a very courageous man. It took immense courage to resign as Pope through ill-health. A lesser man would have remained in that position, through protocol and pressure.
"I recall taking a group of university students to Rome just after his election. After Pope John-Paul II, a very charismatic and well-known figure, I remember thinking he might not have the same stature but when we met him in St Peter's Square, I changed my mind. He was astonishing – he brought his own gifts and unique personality to communicate effectively with young people – and all peoples.
"We are grateful for those gifts and for his example.
"I will celebrate a Requiem Mass in Brentwood Cathedral for Pope Emeritus Benedict at 11.30am on 8 January. We pray for the repose of his soul."