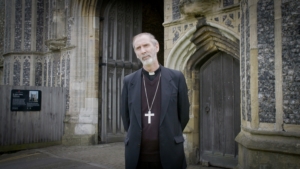 In his Christmas message on BBC Essex, Bishop Alan said: "My prayer for us all is that behind all the joy and blessings of Christmas, we also get a glimpse of the child in Bethlehem, the man in Nazareth… the Son of God who pitched his tent among us."
Listen to the message below:
Bishop Alan has had a busy time in the run up to Christmas. On Saturday 17th December, he visited Chelmsford Prison to say Mass for the prisoners there. And on Sunday 18th December, he presided at the traditional Service of Nine Lessons and Carols in Brentwood Cathedral. During the last week before Christmas, he visited sick clergy and others around the Diocese before spending time at the homeless centre in St Fidelis' Friary, Canning Town on Thursday 22nd December. Run by the Friars of the Renewal, the centre provides hot meals for homeless people three times a week. Bishop Thomas, who has visited many times before, visited on Tuesday while Bishop Alan attended the Christmas lunch on Thursday.
Bishop Alan reflects on his week: "I celebrated Mass at Chelmsford Prison just before Christmas.  I received a great welcome from the residents and staff and also spent some time with the wonderful Catholic Chaplaincy team.  Prisoners are particularly aware of their absence from their families at this time of year and I spoke with a large number of men afterwards and promised to make their prayers my own."
"On Thursday I visited the centre for the homeless at Canning Town where the Franciscan Friars of the Renewal and their many volunteers were welcoming guests to Christmas dinner and entertainment.  There was a great party atmosphere and Father Christmas also joined us with gifts including clothing and toiletries."
He concludes: "Before leaving I prayed in the Chapel and then gave a Christmas blessing to all present.  The Friars make a great contribution to the witness and work of the diocese and they need our continued support for their wonderful ministry."
 On Christmas Eve, Bishop Alan celebrated Vigil Mass in the Cathedral at 10 pm and presided at Choral Mass at 11.30 am on Christmas morning.